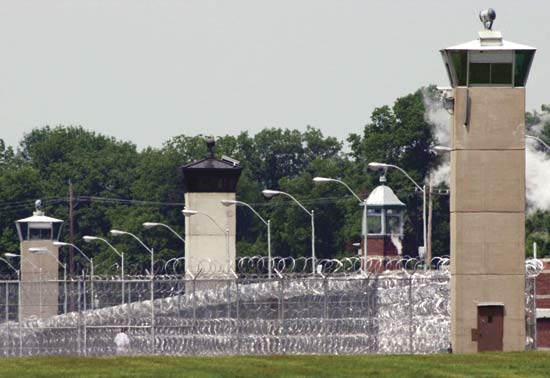 Inmates in prisons throughout the United States and, likely, countries around the world, are encouraged to do something productive with their copious amounts of otherwise-free time. In many cases, inmates are often assigned to in-prison jobs which facilitate the operation of the institution; any good prison TV show has prisoners working in the kitchen or laundry for example. Prisoners in Federal institutions in the United States are required to work if able, earning 12 to 40 cents per hour. (About one in seven such inmates qualify for a special factory work program run through the prison system. Those jobs pay 23 cents to $1.15 an hour.)
But one prison in Brazil has taken a different route. Inmates there are offered a non-traditional job with non-traditional pay. The job: Pedal. The pay: time off your prison sentence.
Santa Rita Do Sapucai is a town of about 35,000 people in southern Brazil. It is called the "electronic valley" due to the local electronics industry in the area. It is also home to a medium-security prison, one which typically does not house only very dangerous people. (There are, however, murderers and the like housed at this particular prison.) With Brazil's prisons terribly overcrowded — CNN states that as of December 2011, the system as a whole is at 167% of capacity — many prisons, including this one, have looked for ways to safely reduce prison sentences for the incarcerated.
There have been many such examples of innovative ways to do this. As noted in these pages earlier (see the bonus fact here), some Brazilian prisons allow inmates to earn an earlier release by doing book reports. The Santa Rita prison puts them to work, pedalling stationary bicycles. So far, eight inmates have been selected to exercise on the four bicycles, and they earn time off as they push forward, going nowhere.
Rewarding inmates for cardiovascular exercise may sound, well, stupid, and it would be if that were the point of the program. But it isn't. The goal is clean energy. The bikes are hooked up to car batteries which are recharged daily due to the efforts of the prisoner-cyclists. Each evening the batteries are brought to the local town plaza where they are used to powe the streetlights. Right now, enough energy is produced to light only a handful of the plaza's 34 streetlights, but according to the AP, the near-term goal is to power all of them. There are further plans to power houses this way, but whether that's reasonable is anyone's guess.
But that said, expect there to be plenty of willing bike-riders. According to US News and World Report, cyclists earn a day off their sentence for every three eight-hour (!) biking shifts. Two months into the program, one inmate had cut 20 days off his sentence — and 9 pounds off his weight.
Bonus fact: Another Brazilian incarceration innovation? Geese. Per another AP report, a prison near Sao Paulo employs a pair of geese as living alarms — "the geese make a lot of noise when they sense strange movements," and alerting guards.
From the Archives: Fordlandia: Another mix of Brazil and vehicles.
Related: "Prisons and Prison Systems: A Global Encyclopedia" by Mitchell P. Roth. For no good reason, I'm a little surprised that this book exists.