Reintroducing the Random Button
Hi!
Before I get started on today's email, a quick programming note: Monday is Memorial Day in the United States and I'm taking the day off. So don't be concerned or surprised when there's no Now I Know in your inbox on Monday!
With that out of the way, let's get random.
I was playing poker last night (lost $9, in case you were wondering, but played well generally) and one of the other guys — a longtime Now I Know reader — mentioned how when he first joined the newsletter, he found himself hitting the "Random" button on the website and falling into a rabbit hole of my old articles. That surprised me because, as far as I can recall, I've never had a "Random" button on the website. And as of yesterday, I definitely did not have one on the current website.
But there definitely is one — a hidden one that I use every so often, particularly when looking for something from the archives to re-share. I can't exactly remember why I haven't made it publicly available or why I removed it if I previously shared it, so starting right now, it's there on the navigation bar above.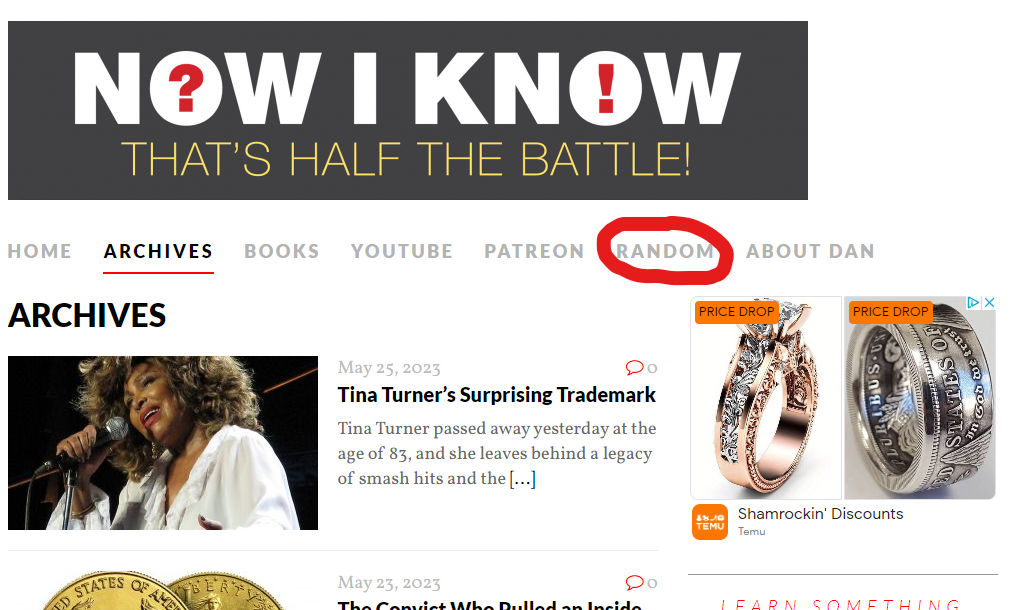 The Now I Know Week In Review
I'm behind on reading my emails so if I made an egregious error this week, I don't know it yet. Hopefully, I didn't!
And some other things you should check out:
Some long reads for the weekend:
1) "The Ugly Truth Behind 'We Buy Ugly Houses'" (ProPublica, 26 minutes, May 2023). Putting aside the story itself, I really appreciated this quote on two levels — the impact of journalism on a problem, and how the corporate parent still had to position the policy on something that was good for its franchisees: "Within days of receiving questions from ProPublica, HomeVestors prohibited its franchises from recording documents to prevent homeowners from canceling sales and discouraged them from suing sellers. The practices not only affect the seller, the company noted, it creates a paper trail that reporters and prosecutors can follow to a franchise's doorstep."
2) "Imagine a Renters' Utopia.It Might Look Like Vienna." (New York Times, 29 minutes, May 2023). The subhead is "Soaring real estate markets have created a worldwide housing crisis. What can we learn from a city that has largely avoided it?" but I don't know if I agree with its conclusions. I have no expertise in urban planning or, for that matter, how to manage housing costs in any environment. But I really liked the pictures of the pools.
3) "My Night in the Sistine Chapel" (The Atlantic, 22 minutes, May 2023). A journalist gets the opportunity to tour — and take pictures — of the Sistine Chapel's museum after everyone leaves — and then shares the results with us. It's like a real-life "From the Mixed-up Files of Mrs. Basil E. Frankweiler" minus the subterfuge.
Have a great weekend! I'll be back on Tuesday.
Dan