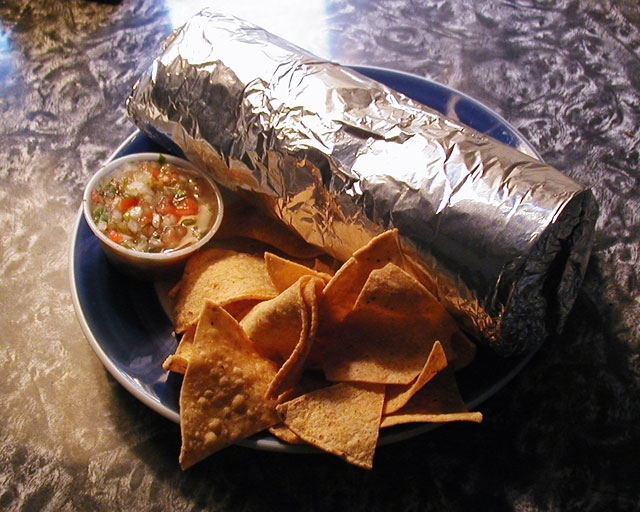 There are many Mexican restaurant chains in the United States, most notably Chipotle, Qdoba, Taco del Mar, and Moe's Southwest Grill. Go into any and order a burrito and you'll get what's known as a "San Francisco" or "Mission-style" burrito. These burritos differ from their Mexican progenitors in size — they're just plain bigger — and by the number of items stuffed inside them — there's a lot more. It's a meal by any measure.
But is it a sandwich?
To most, such a question wouldn't matter. When the San Francisco burrito was created by a Mission-district grocer named Febronio Ontiveros in the early 1960s, he probably didn't care about the semantics. All Ontiveros cared about were the firefighters who were hungry and wanted sandwiches — and the fact that he was out of bread other than some six inch tortillas. So he threw meat, rice, and bunch of other items in it, rolled it up, and sold it for a dollar. The product — and price — has gotten larger since, but the item has maintained its defining traits. Whether the firefighters (and for that matter, Ontiveros) thought of it as a sandwich or a replacement product is anyone's guess. And in 2006, a judge in Massachusetts had to make that guess.
Panera Bread operated a franchise at the White City Shopping Center in the Massachusetts town of Shrewsbury. In its lease, Panera had a clause preventing the shopping mall's operators from renting out space to another sandwich shop. White City offered to lease a spot to Qdoba and Panera invoked this clause to prevent it. Qdoba and White City argued that Qdoba wasn't selling sandwiches; Panera countered by noting that Qdoba offered burritos, and argued that burritos are sandwiches.
The matter went to judge Jeffrey Locke who, according to the Associated Press, turned to Webster's Dictionary and a few expert witnesses. He concluded that a burrito was not, in fact, a sandwich: "A sandwich is not commonly understood to include burritos, tacos and quesadillas, which are typically made with a single tortilla and stuffed with a choice filling of meat, rice, and beans." And with that Qdoba was able to move into the White City mall.
But in the end, Panera got the last laugh. As of this writing, the Qdoba at White City is no longer in business, but the Panera Bread is.
Bonus fact: There's some argument to be made that the sandwich-ish thing called a wrap is a spinoff of the San Francisco burrito, as it may have been invented in the mid-1990s by a Mission-area restaurant called World Wrapps. (There's a competing story, which is likely hogwash, that Boston Red Sox manager Bobby Valentine invented the wrap in 1980 at his Stamford, Connecticut restaurant, as discussed here.) So is a wrap a sandwich? There's no consensus. Wikipedia calls them "sandwich wraps" and, as reported by the Harvard Crimson, the Oxford Encyclopedia of Food and Drink in America asserts that they are sandwiches as well. But the wrap's burrito-kin history would suggest otherwise — as would the helpfully-named IsAWrapASandwich.com.
From the Archives: Fruits and Vegetables (and Prank Callers, Too!): Are tomatoes a fruit or a vegetable? Again, the courts had to decide.
Related: "400 Best Sandwich Recipes: From Classics and Burgers to Wraps and Condiments" by Alison Lewis (no relation). Includes wraps, as evidenced by the title. May include burritos — that is unclear. Apparently, there are 90 different grilled cheese recipes, which sounds like a great summer activity. 4.9 stars on seven reviews.