Seattle's Mystery Soda Machine
On the corner of John Street and 10th Avenue E in Seattle, Washington, you'll find Broadway Locksmith. They're located just off Capitol Hill and near Seattle University, so they're convenient if you're in the downtown Seattle area and in need of locksmithing services. And as seen on Google Streetview here, in front of it is a bus stop.
But a few years ago, the bus stop wasn't there. Something else was — something that drew tourists with their quarters and dollar bills. The sidewalk in front of Broadway Locksmith was home to Seattle's Mystery Soda Machine, as seen pictured below.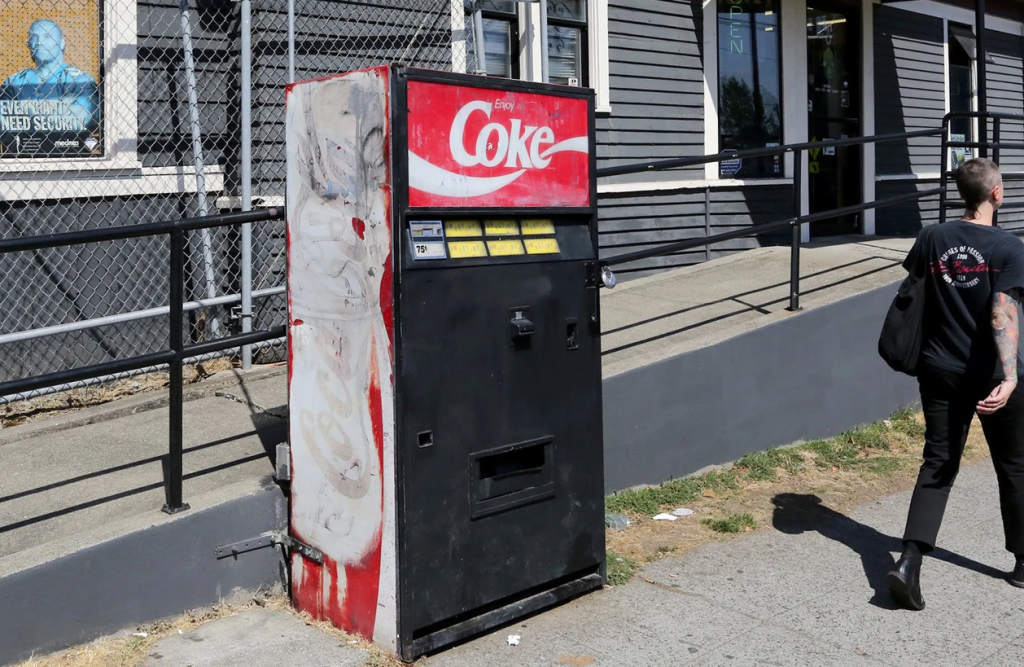 The beaten-up vending machine was unlike any other. First, no one is quite sure who owned the machine — or, at least, no one is admitting to being the operator. As the Seattle Times reported in 2015, "the identity of who owns the machine's keys and is refilling it with stacks of random beverages is unknown, even to the employees of Broadway Locksmith, which lends electrical power and property to keep the mystery going." The owners of the locksmith denied any involvement (other than not unplugging the machine), with one employee telling the TImes that "whoever is restocking the machine must be doing it outside normal daytime hours, during early mornings or weekends, when people at the locksmith business aren't around." The Times even asked city officials if anyone had filed a permit to operate a vending machine in the sidewalk, but "there were no permits on file for the machine."
And second — and perhaps more importantly — the machine was a bit of soda roulette. If you look carefully at the picture above, you'll notice that the six buttons are labeled in yellow. Those buttons read "Mystery?" if you look closely (click here, don't take my word for it) — and if you bought a drink from the machine, you never knew what you were going to get. In fact, you may have never heard of some of the flavors before. The Times reported that on one trip, the machine vended "Mountain Dew White Out, pink lemonade Minute Maid, [and a] vintage-looking Dr Pepper." A Seattle blog listed "Lemon-Lime Slice, Mountain Dew Code Red, [and] Diet Hubba Bubba Bubblegum" among the once-served flavors. Another blog claims that the machine once had Pineapple, Grape, and Strawberry Fantas, as well as Hawaain Punch, Squirt, and Sierra Mist. You never quite knew what you were going to get, and that was part of the machine's appeal. The Coke Machine without Coke even developed its own little online following, with more than 30,000 fans following its Facebook page.
But alas, the dream machine is no longer. In June 2018, per a followup report in the Times, the machine disappeared, and whoever moved it left behind only a short note taped to a metal bar nearby, reading "went for a walk." The Facebook page featured a post echoing the sentiment, stating "going for a walk, need to find myself. Maybe take a shower even." According to Atlas Obscura, the machine resurfaced briefly in October of 2022 in a Seattle suburb, only to disappear again that December — without even leaving a note this time.
Bonus fact: In 1999, Coke introduced a vending machine "equipped with thermometers, and when demand for a cold soda rose with the temperature, the price would rise too," according to the New York Times. That's a pretty good way to take advantage of increases in demand — or, so Coke thought. Per the Times, consumers (and cola rival Pepsi) accused the company of price gouging and "Coke responded by running away from the heat-seeking vending machine as fast as possible."
From the Archives: The Mall Fish Machines: Caviar at the push of a button. In a shopping mall. From a vending machine. (And if I say so myself, the last line of this story is a really solid joke on my part.)