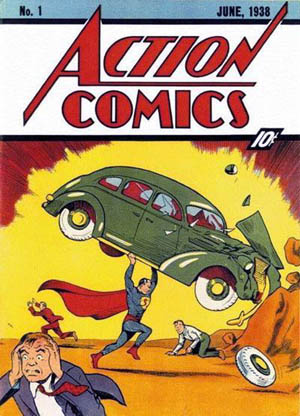 Superman, the iconic superhero from the planet Krypton, made his comic book debut in the first issue of Action Comics, dated June 1938. Seen above, it pictures Superman, draped in his trademark red cape, lifting what appears to be an exploding car as businessmen cower and flee in terror. Action Comics #1 contained only thirteen pages of Superman comics out of a total of 64 pages. It featured nine other stories such as "The Adventures of Marco Polo" and "Scooby the Five Star Reporter" (which has nothing to do with Scooby Doo). Roughly 200,000 copies of Action Comics #1 were printed, and it retailed at a cover price of 10 cents, which, even accounting for inflation, would only be about $1.50 or so today.
But of course, a copy of Action Comics #1 is hard to come by, as most of the original 200,000 were discarded or otherwise set aside and lost over the succeeding decades. Comics Buyers' Guide notes that prevailing wisdom estimates that only about 50 to 100 copies still exist, and only a small percentage thereof are in decent condition. Issues graded as being in top conditions have sold for princely sums. In February 2010, a copy fetched $1 million. A month later, another copy sold for $1.5 million. And in 2011, a copy sold for $2.16 million, easily a record in the comic book world. But a sale of a less-well kept copy — a 5 (on a scale of 10), compared to 8s and up for the million dollar ones — may have been more fitting of the Superman name.
As reported by ABC News, in the summer of 2010, an unnamed family somewhere in the American South was packing up their house in anticipation of a move when they came across a copy of Action Comics #1. They got in contact with ComicConnect.com, a marketplace and auction house which brokered the deals for the million dollar comics, which agreed to auction it off and noted that the comic could fetch a price as high as $250,000. While most anyone would be ecstatic to hear that they just found as much as a quarter-million dollars (before taxes, naturally) sitting on a shelf, collecting dust, for this anonymous family, the discovery was more than just a windfall.
The reason they were moving? Their house was in arrears and the bank was about to foreclose. Until Superman appeared, that is.
Bonus fact: The $2.16 million paid out when the record-setting copy of Action Comics #1 was sold did not go to a homeowner at risk of foreclosure. Most likely, it went to an insurance company. In 2000, a copy of Action Comics #1 owned by actor Nicolas Cage was stolen; it turned up over a decade later, in 2011. The auctioned-off copy is believed to be the same one as the comic stolen from Cage, but Cage wasn't on the receiving end of the $2.16 million. After the theft, his insurance company paid him a settlement estimated to be approximately $1 million; it's likely that the insurance company took possession of the recovered comic and sold it to recoup that cost (and then some).
From the Archives: Spider in the Attic: Another story about finding something unexpected in your often-unpatrolled storage areas.
Related: In 2011, Action Comics retired the first volume of comics, which had been running since 1938, and started volume two, called "the new 52." The first issue of that volume is also called "Action Comics #1." That comic? It'll cost you about $5.