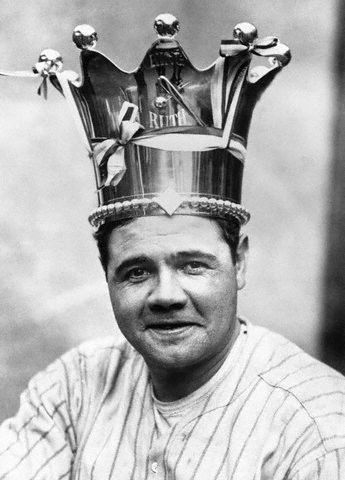 In 1919, Babe Ruth — in his last season with the Red Sox — slugged 29 home runs.  This was a new Major League record, breaking (by two) the mark set in 1884.  The next season, Ruth would hit 54.  Then 59 the year after.  And finally, in 1927, he'd peak — 60 homers.  That record lay untouched for over forty years, until 1961, when Roger Maris hit 61, only to again be passed by Mark McGwire (70 home runs in 1998) and Barry Bonds (73 in 2001).
Along the way, Ruth would collect many other records and accolades.  He retired with 714 career home runs, pacing the Majors until 1974 when Hank Aaron passed him.  Aaron would finish his career with 755, and, in 2007, Bonds hit his 756th to take that title.  He retired with 762, the current Major League record.
But a home run in the Babe's day wasn't quite the same as it is today.  And it's quite possible that, given today's rules, Ruth would come out well ahead of Maris, McGwire, Aaron, and Bonds.
Two since-changed rules also impacted Ruth's home run total.  First, if a game ended on what would have been a home run, but the winning run was on base (and therefore, the run scored by the batter himself was moot), the batter was credited only with enough bases needed to score a run — and, necessarily, therefore not a home run.  That rule cost Ruth one career homer.   Second, if a ball hit an object over the fence and returned to the field of play, the ball was considered live.  We know that twice in 1930, Ruth hit a would-be home run in Philadelphia, only to have the ball hit off the loudspeaker in right-centerfield and return to the field of play.
But in 1931, the American League made a series of rules changes which impacted the definition of "home run" so greatly as to render the above to penny-ante status. After this rule change, a ball which went over the fence in fair territory but landed foul would, as it is today, be considered a homer. Prior to that, such a swat was considered a foul ball — a long strike, debited from the batter's allotment of three.  Some researchers believe that the Babe lost as many as 75 (!) home runs due to this rule.
All said and done, Ruth's resume is grander than his records.
Bonus fact: The man who is, perhaps, the greatest slugger in American baseball history is not mentioned above.  Josh Gibson, a catcher whose career was relegated to the Negro Leagues due to apartheid rules in Major League Baseball, is believed to have hit as many as 800 home runs — a belief which is enshrined on his Hall of Fame plaque.
From the Archives: Superstitious Superstar: Wade Boggs, another Hall of Famer, did not hit a lot of home runs. But he ate a ton of chicken.
Related reading: "The Year Babe Ruth Hit 104 Home Runs," a 400+ page treatise chronicling Ruth's slugging prowess.  Received 4.5 stars on 22 reviews, and available on Kindle.  Also, "Josh Gibson: A Life in the Negro Leagues," 4.5 stars as well, but by only seven reviewers.