The Beer That Had to Unprotect Itself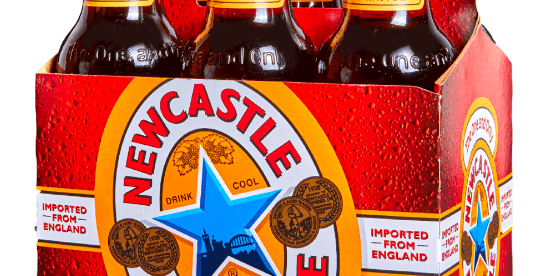 If you're drinking champagne, by law, it came from Champagne region of France. Historically, that's been the rule; if it's not from there, the celebratory beverage in your flute may be a reasonable facsimile for the bubbly white wine, but it's not technically "champagne." As Wikipedia notes, "in some countries, it is illegal to label any product champagne unless it comes from the Champagne region."
This regional protection isn't something limited to champagne, either; there are a lot of other, less well-known examples. (Here's a list of ones from the UK alone, and it's extensive.) And while this credential is not easy to obtain, if you have an iconic product of local importance, you can apply for similar protection. In the European Union, for example, you can apply for "Protection of Geographical Indications" status (PGI).
And you can un-apply, too.
If you're a beer drinker, you may be fond of Newcastle Brown Ale. It's been around since 1927 when a Newcastle (UK) brewer named Jim Porter finally — after three years of experimentation and ideation — finally had a brew he liked. Newcastle Brown Ale proved popular in the region during its early days but, for the first thirty years of the product's life, it was almost entirely a regional option. That changed in the 1960s when Newcastle Breweries merged with another company, allowing for more output and better distribution. By the 1990s, Newcastle Brown Ale was the highest-selling alcoholic drink in the United Kingdom. And since then, it's popularity has spread overseas. Understandably, for the people of Newcastle, the drink became a point of local pride.
To that end — and also, to help protect the brand — the brewery and town applied for PGI status. In February of 2000, that came through, and they toasted to their success with the now-protected product. With its newfound status in hand, the BBC reported, "Newcastle Brown Ale is protected from imitations and cannot be brewed anywhere other than in the north-east of England." And, specifically — and this should go without saying — it had to be brewed in the English city of Newcastle.
Although in retrospect, maybe that detail should have been highlighted.
Newcastle, for those unaware of the area's geography, is on the northern bank of the River Tyne (here's a map). Across the river is a somewhat smaller city called Gateshead. The two are, often, considered one in the same; the two cities even created a combined "NewcastleGateshead" tourism board. So, in 2004, when Newcastle's brewery moved across the river to a new facility in Gateshead, they probably didn't think much about the PGI status they obtained just a few years earlier. But they probably should have.
EU regulators took notice and weren't as forgiving as the brewers would have hoped. The owners of the Newcastle Brown Ale brand had two obvious choices: move back across the Tyne or change the name of the product. Neither was a good option, so the brewery decided to do something new: they applied to have the registration canceled. And as seen in this pdf, they were successful. In August 2007, the EU revoked Newcastle Brown Ale's PGI status, allowing it to be made across the river — or anywhere else.
Today, Newcastle Brown Ale is made in neither Newcastle nor Gateshead. Heineken, which bought the Newcastle's brewers in 2008, has since relocated operations to Amsterdam.
Bonus fact: Stilton cheese is another one of those protected foods; as noted in this pdf of the regulation, it can only be produced in three UK counties: Leicestershire, Derbyshire, and Nottinghamshire, where the cheese is thought to be originally from. (There's an exception for "times of [milk] shortage.") The English village of Stilton, though, is located in the county of Cambridgeshire, and therefore, Stilton cheese can't be made in Stilton itself. In 2013, Stilton's residents petitioned to expand the cheese's region to include its namesake village, but that petition was denied.
From the Archives: Beer Bricks: How Heineken tried to turn beer bottles into housing.