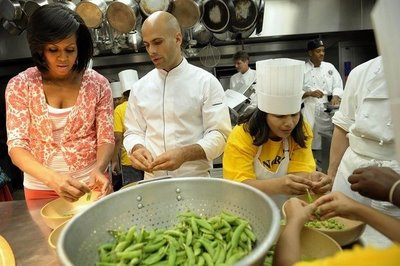 Imagine going home one evening and ordering dinner for you and your family, something simple from the local restaurant, and putting it on your credit card. The next day, you run some rather pedestrian errands – drop off the dry cleaning, pick up some cereal and toothpaste and other odds and ends at the grocery store, and maybe some M&Ms or something. Again, charge it all to the credit card. At the end of the month, you are going to get a bill – a bill you are expected to pay.
Now imagine that you are the President of the United States. Instead of ordering from a local eatery, you call up your Executive Chef. Instead of running your own errands, White House staff does it for you. The salaries of all of these people are covered by the government. But the items themselves? The meals, the dry cleaning, the toothpaste, and the snacks? What is true for the rest of us is true too for the President: at the end of the month, you are going to get a bill – a bill you are expected to pay.
Yes, the President has to pay for incidentals.
Don't worry — the state dinners, Secret Service detail, etc. are all paid for.  And the President can probably afford his four to six eggs, potatoes, and wheat toast — his annual salary, set forth by 3 U.S.C. 102, is $400,000, plus another $50,000 for expenses incurred in official duties.  (And no, he does not pay rent nor hotel-like occupancy fees. That same section of the U.S. Code notes that the President "shall be entitled also to the use of the furniture and other effects belonging to the United States and kept in the Executive Residence at the White House.")  Given the other amenities that come with the job — and the (gratis) White House's staff which can approach 100 employees — the salary is more than enough to cover the cost of toothpaste, etc.
So every month, the White House provides the First Family with a bill.  And as National Geographic reported, "[i]n the first months of a new administration, sticker shock is routine."  Says Gary Walters, former chief usher at the White House (who managed the home for multiple First Families), "I can't remember anyone not complaining."  After all, when you have world-class chefs preparing your food, they spare no expense.  And the bill reflects that.
Bonus fact: According to GQ, while in U.S. custody, Saddam Hussein's favorite cereal was Raisin Bran Crunch — but not Froot Loops, which he apparently refused.  (We assume that Hussein, unlike then-President Bush, did not have to pay for his cereal.)
From the Archives: The President's Pants: One of the ways one of the presidents spent his money.
Related: "White House Workers: Traditions and Memories," a 32 minute DVD profiling members of the permanent staff of the White House.