In the 1988 movie Coming to America, Eddie Murphy plays the role of Akeem, the crown prince of a made-up African nation called Zamunda, who temporarily moves to Queens, New York, in order to find himself a bride (or, in the eyes of his father the king, played by James Earl Jones, to get it out of his system). It is the stuff of fiction, of course. But in the real world — a world of six billion people — seemingly anything can happen. And the story of Isaac Osei is pretty close.
Isaac Osei emigrated to the United States from Ghana about thirty years ago and took up driving a taxi in New York City for a living. By 1982, he purchased a taxi medallion — the license needed to operate a cab in the city. After a divorce and remarrying, he and his second wife, Elizabeth built an empire of fifty taxis, with cars running all hours, day and night. It's a grueling job with odd hours, as the overnight drivers transfer their cabs to the day drivers at around 4:30 AM, and the day drivers transfer them back to the night ones twelve hours later. (In January, the New York Times ran this great article describing why the exchanges happen at these times.) Elizabeth is the company president; Isaac is its vice president.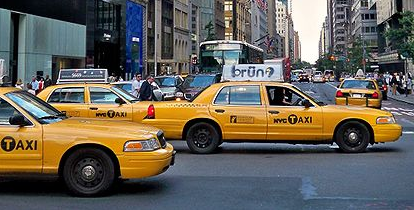 But a few times a year, Mr. Osei and his wife return to Ghana — not to visit family, but so that he can assume his responsibilities as the chief of five Ghanaian towns.
Osei is a latecomer to the 10-room palace, gold-leaf crown, palanquin rides, and honorific-laden name ("Nana Gyensare V") which comes with the part-monarch, part-politician part-time chief role. One of 19 children, the role of chief has been left to his family for generations — but it fell to one of his older brothers, and not to Isaac. Osei carried on his life in America with nothing more than a passing memory of his role as a Ghanaian regal, but when that brother passed away in 2006 — two and a half decades after Osei began his taxi empire — Isaac ascended to the role of chief.
As reported by the New York Times, Osei's official, chiefly duties rival in intensity his "regular" job running a taxi fleet. As chief, his days are 20 hours long, and his duties are anything but ceremonial. Osei, during his "vacation," becomes the one-man judicial system, arbitrating familial disputes and other legal questions, resolving as many as possible before returning to New York. Meanwhile, Elizabeth has duties as the chief's wife, including throwing a feast for 1,000 guests commemorating the annual yam festival — a party at which guests sit, waiting to eat until Isaac does his priest-like duty of blessing the yam harvest.
But unlike Akeem in Coming to America, the Osei's trips to Ghana are not permanent relocations. They return to the U.S. after fulfilling their official Ghanian duties, where it is back to the taxi business. After all, creating their taxi company may be the more impressive feat. Because of New York City's taxi medallion/licensing system, owning a fleet of taxis is expensive — recently sold medallions went for as much as $705,000.
Bonus fact: In October of 2010, Mohamed Abdllahi Farmajo Mohamed became the Prime Minister of Somalia, accepting appointment to the position by the Somalian president. After leaving the post in June, 2011, Mr. Mohamed returned to his old job — sitting in a cubicle at the New York State Department of Transportation's offices in Buffalo, where he is a regional compliance officer. His first task upon returning: ensuring that at least 12% of the expenditures on a local highway go to minority-owned businesses.
From the Archives: Die Hard: How a taxi driver and some friends tried and tried and tried to kill someone.
Related: Coming to America — available on Amazon's Instant Video service (24 hour rental) for $2.99. If you haven't yet seen it, it's a must-watch. If you have, it's worth watching again.