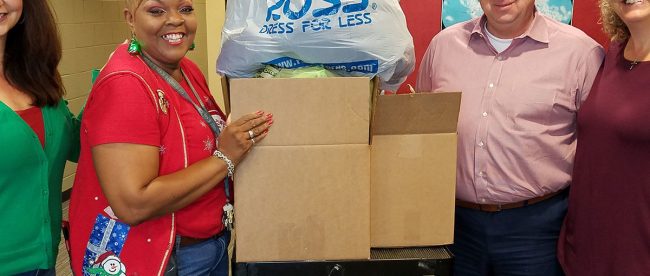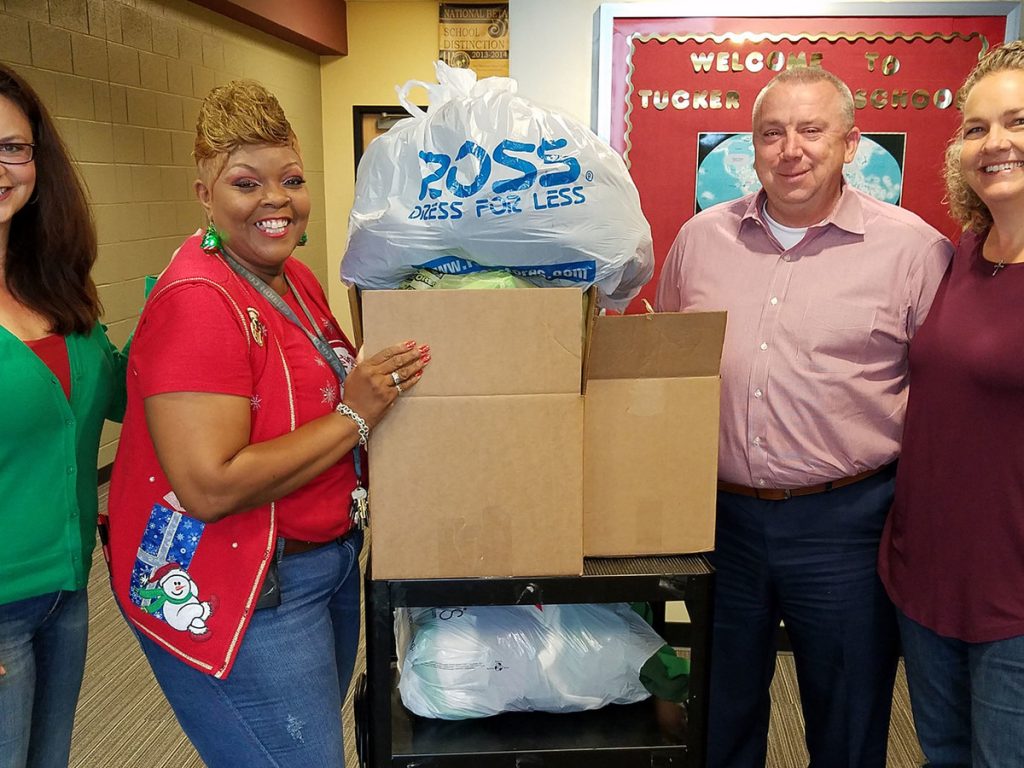 Tucker, Georgia is a city of about 35,000 people located less than a 30-minute drive from Atlanta. It has a high school — appropriately named Tucker High School — which has an enrollment of about 1,800. And on its staff is a custodian named Carolyn Collins, pictured above in red.
Collin's job requires her to be at Tucker High well before the doors open to students, as she and others get the school ready for the day ahead. And early one morning in 2014, Collins went to take out some trash just as she did on most days. But when she opened the door that morning, she found more than what she expected. A pair of students — siblings — were there, waiting for school to start. And they wanted to come inside early.
Collins was surprised; school, again, didn't start for a couple of hours. So she asked why they were out there, waiting. According to the Washington Post, "[the students] said they'd been living in a car with their mother, who had dropped them off early so they could get ready for school in one of the restrooms." But the building was closed so they were sitting outside, waiting in the cold, instead. Collins brought them inside and got them a meal.
Helping at that moment, though — that wasn't enough for Collins. Years beforehand, her son was murdered in a home invasion gone wrong. Collins blamed poverty for the tragedy — she felt that when people believe that stealing is the only way out of their situations, terrible things are going to happen. And these two siblings she had just helped weren't the only ones at Tucker who were affected by homelessness.
So after school, Collins went a step further. She visited a handful of dollar stores and bought a total of $200 or so of stuff — "snacks, toiletries, socks, underwear, notebooks and pencils" per the Post — and the next day, convinced school administrators to let her clear out an underutilized storage room to house these items. Students in need were free to take from the closet, no questions asked. And in doing so, she inspired the school to help out its fellow students.
Four years later, the Giving Closet, as it is now known, is still running strong. Collins continues to stock it with some of her own money but that's less and less necessary — the school community and many others have stepped in with donation after donation. Today, students can even find prom dresses among the items available. And perhaps more importantly, Collins and the school are teaching kids that it is OK to ask for help. Collins told Fox 5 Atlanta that in most cases, "it's hard for some of the kids to walk up to you and let you know they don't have," but by and large, students feel confident approaching her as needs arise. And if they're uncomfortable doing so, that's okay too — the teachers and administration keep an eye out for kids who appear to be in distress; they'll tell Collins, who will quietly approach the child in need
For the kids, Collins surmises, the Giving Closet opens a new door — one which makes school more accessible. And the school's principal, Eric Parker, agrees. He told the Atlanta Journal-Constitution that while "the academic piece is our focus [of the school], we can't focus on that if some of the social-emotional needs and other human needs of our students aren't being met." With Collins' Giving Closet, more and more of those needs are met every day.
Bonus fact: In 2011, a man named Roman Ostriakov stole about $5 worth of sausages and cheese from a grocery store in Italy. Four years later, he was convicted of theft and sentenced to six months in prison (and given a €100 fine). Ostriakov appealed the conviction, claiming that he didn't have a choice — he didn't have enough money to buy food. The Italian court agreed. In overturning the conviction, the Supreme Court of Cassation — the nation's highest court — ruled that "stealing small quantities of food to satisfy a vital need for food did not constitute a crime," per the BBC.
From the Archives: The San Francisco Bushman: The Bay Area's most famous homeless person.