The Everyday Superheroes at the Elder Care Facility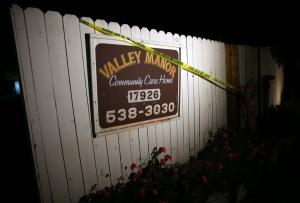 On October 24, 2013, the California Department of Social Services shut down a small elder care facility in Castro Valley, a suburb of San Francisco. The home, called Valley Springs Manor, had been investigated for a laundry list of problems, from failing to perform appropriate employee background checks to not providing patients with proper medication, as ABC 7 News reported. The 20 or so residents of the home were to be relocated to new, compliant homes.
But there was a small glitch in the plan. On the day of the home's closure, the government simply hadn't been able to find a new place for all of Valley Springs Manor's residents yet. The owners of Valley Springs were temporarily allowed to keep the home open, pending relocation of those in their care. But the owners didn't care. Instead, they shut down operations and stopped paying their employees, most of whom didn't turn up to work the next day. But a dozen or so of their patients were still at the home; the owners had effectively abandoned them, leaving the ailing seniors to fend for themselves. And it should go without saying that left uncared for, the fates of these patients would have been doomed.
But two heroes arrived — or, more correctly, remained.
At the time of Valley Springs Manor's closure, two men named Maurice Rowland and Miguel Alvarez were employed there as the cook and janitor, respectively. Despite the fact that neither were being paid to work there any longer — and neither had any experience in the specifics of elder care —  both men decided to stay and assist the otherwise-abandoned residents. The pair spoke to NPR about their decision:
"There was about 16 residents left behind, and we had a conversation in the kitchen, 'What are we going to do?' " Rowland says.

"If we left, they wouldn't have nobody," the 34-year-old Alvarez says.

Their roles quickly transformed for the elderly residents, who needed round-the-clock care.

"I would only go home for one hour, take a shower, get dressed, then be there for 24-hour days," says Alvarez.

Rowland, 35, remembers passing out medications during those long days. He says he didn't want to leave the residents — some coping with dementia — to fend for themselves.

"I just couldn't see myself going home — next thing you know, they're in the kitchen trying to cook their own food and burn the place down," Rowland says. "Even though they wasn't our family, they were kind of like our family for this short period of time."
The around-the-clock care, unpaid, continued for more than two days. Ultimately, officials arrived to complete the relocation, finding the patients there with a very tired Rowland and Alvarez — an unlikely duo which probably saved the lives of some of the people at Valley Springs. Their heroism did not go unnoticed; shortly thereafter, the media picked up their story and they were heralded for their good deeds. Donations to the pair began pouring in, per the San Francisco Chronicle, as well as job offers and various honors from governmental and private organizations.
As for the owners of the home, they also received a little more attention than they had anticipated: they were charged with felony elder abuse and face a maximum 17-year prison sentence.

Bonus Fact: In Japan, most schools do not have janitors. As the New York Times reported, school-wide cleanup is part of the student body's job: "from first grade through the senior year of high school, children spend 15 minutes to half an hour a day to take out the garbage and remove any graffiti that their buddies have unkindly left behind." The reason, per the Times, is to teach the lesson that "for every action, like sticking gum under a desk, there must be an equal and less pleasant reaction, like removing it."
From the Archives: Dementiaville: One Netherlands community's creative approach to elder care for those whose memories have failed them.
Take the Quiz: Name the janitor, maid, housekeeper, or butler from the given television shows.
Related: A well-regarded book on how to find appropriate elder care for your loved ones.