The Fake 80s Song That Became an Accidental Hit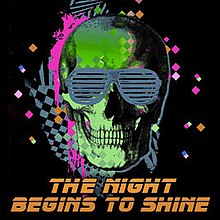 The TV show "Teen Titans Go!," is perhaps Cartoon Network's most successful program to date, and for good reason — it's funny. The show is a tongue-in-cheek look at the lives of some B-list superheroes led by Robin (of Batman and Robin fame) during their angsty and sophomoric teenage years. It mixes physical humor and absurdism with subtle social commentary and nostalgia, so it's a pretty good show for both the 40-something and the tween in the same household, an endorsement made from experience.
And it also accidentally created a very popular song from a band that never existed.
Like many cartoons, "Teen Titans Go!" has a pretty tight budget. And like most TV shows, it has to fill a certain amount of time. Midway through the show's second season, that proved to be a problem. The August 28, 2014 episode titled "Slumber Party" was about 10 seconds short of the time required, necessitating an extra scene. The producers came up with an idea: Cyborg, the Teen Titan who is, you guessed it, a cyborg, dances to his favorite song just before bedtime. At the beginning of that episode, he is having trouble falling asleep, so he turns on some tunes, and on comes the 1980s hit "The Night Begins to Shine." He really gets into it — he rocks out, lipsyncing along with a few verses, says "that's good!," then turns off the lights to go to sleep. The whole clip — you can watch it here — is only about 32 seconds, and has almost nothing to do with the rest of the episode. But before you click, be warned: it's a catchy tune.
And fans wanted more of the song. A lot more. There was a problem, though: the song couldn't be found anywhere. Not on iTunes, not on Spotify, not even on YouTube — except for that 32 seconds of Cyborg's lipsync and boogie, it was like the song didn't exist. And there's a reason for that: the song wasn't a pop song from the 1980s — it wasn't a pop song at all. Rather, it was some random tune that some in-house music producers at Warner Brothers had thrown together in 2005, in case a show needed some generic-sounding 80s music for the background of a show. And nearly a decade later, it sat on the shelf, unusued, until the "Teen Titans Go!" team needed to fill those ten seconds. NPR explains:
It's important to note that Teen Titans Go! does not have its own composer. There's no person on the Warner Brothers lot conducting an orchestra along to the cartoon. Instead, directors have to score their own stuff using whatever they can find in their in-house music library.

"That whole episode, I was scoring it with an '80s vibe," says [director and producer] Peter Michail. "So I literally went into the '80s rock genre and [was] rummaging through these albums and found ["The Night Begins to Shine"]. I was like, 'Aw dude, this song's awesome!'"
Because the song was a catalog item — a song intended to sit on the shelves until needed — there was never any plan for it to have a commercial release. For that matter, it didn't even have an associated band credited with its creation. But fans of the TV show loved it, so the producers changed that. On October 21, 2015, Cyborg introduced his favorite song to his superfriends, telling them that it's by a group called B.E.R. (which, not coincidentally, are the last initials of the three guys who produced the song for the Warner Brothers music library). The song plays many, many, many times throughout the episode; Cyborg gets increasingly excited while his friends get increasingly annoyed. For kids watching the show, it's funny; for the grown-ups, it's … well, it's also funny.
Warner released the song on iTunes about a week later but it didn't sell many copies. However, the popularity of the song increased, and fans took to YouTube, creating mashups and extended versions of the song. Once again, the producers of "Teen Titans Go!" followed the lead of their audience, giving them more "Night." In the summer of 2017, the show debuted a four-part special centered around the song, titled "The Day the Night Stopped Beginning to Shine and Became Dark Even Though it Was the Day ." (Really.) The plot isn't important for our purposes; what is key is that, again, fans were treated to the song over and over again.
And this time, that led to commercial success. On August 5, 2017, "The Night Begins to Shine" debuted on iTunes's top charts list in the United States, coming in at 66th. A few weeks later, it hit #23 on the Billboard chart. It was official: a time-filler throw-away joke, somehow, became a momentary music sensation, all because fans couldn't get enough of it.
Want to judge the song for yourself? There's no official music video, but there's a fan-cut one (of course), made from clips from that four-part episode. It was available on YouTube, here, and racked up more than 7.7 million views before it was removed. Another version is here.
Bonus fact: Not everything Cartoon Network broadcasts is as popular as "Teen Titans Go!" In February of 2008, a Comcast affiliate in Nashville, Tennessee, according to a spokesperson, got its signals crossed — "a subscription movie channel was inadvertently shown on other channels which normally carry news, sports, children's and other entertainment programming." By "other channels," they mean Cartoon Network. By "subscription movie channel"? That's a euphemism for x-rated programming. Thankfully, the mixup happened at 4 AM Nashville time, so few if any children were watching anyway.
From the Archives: How Taylor Swift's Popularity Turned Static into Gold: You don't need a song to make it onto the top iTunes lists — if you're Taylor Swift, at least.