The Florida City Fueled by Soda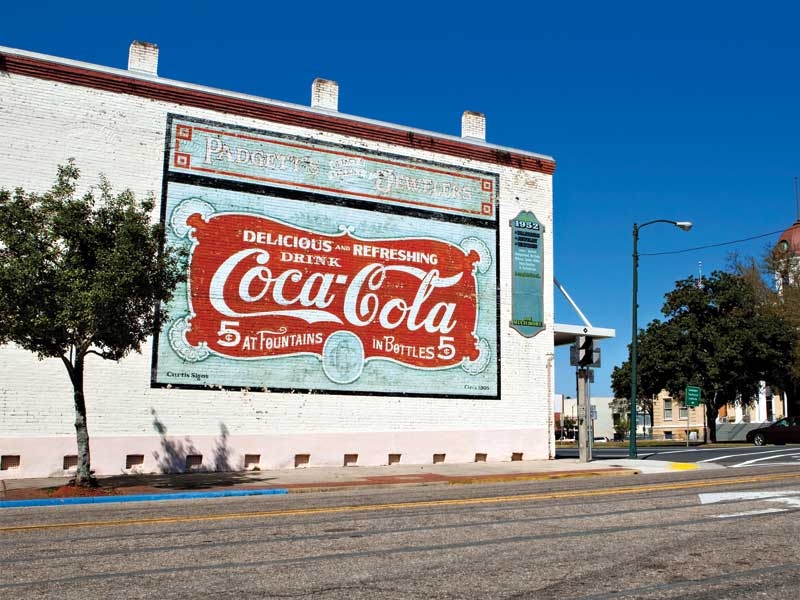 Gadsen County, Florida, is nestled in the state's panhandle just south of the Georgia border. It's a relatively tiny county with only about 80,000 residents. The city of Quincy — with a population of just shy of 8,000 — is the county seat. Like most other Panhandle communities, Quincy has an upsettingly high amount of poverty. Its per capita income is only about $15,000, and, per Wikipedia, "about 16.8% of families and 19.1% of the population were below the poverty line, including 24.0% of those under age 18 and 23.1% of those age 65 or over." That's in part because Quincy — and much of the panhandle as a whole — was originally home to miles and miles of tobacco farms. As that industry dried up, the region began to shift into new products, but farming of other crops never seemed to take hold in Quincy.
And yet, if you visit Quincy, you'll see mansions and a downtown area that is well-kept and relatively newly renovated. That's because Quincy, for most of the 20th century at least, was home to a surprisingly high number of millionaires. In fact, according to the Baltimore Sun, for a moment before World War II, this seemingly forgettable little Florida city was the richest American town, per capita.
The reason? They bought Coca-Cola and held onto it.
No, not the drink. The stock.
While the tobacco industry didn't truly collapse until the 1970s, it certainly had some bumps along the way. In 1919, a banker named Pat Munroe was hot on the product — virtually everyone he knew could afford the nickel it cost to buy a bottle of the soft drink, and most of them gladly ponied up 5¢ to quaff one. Munroe was able to purchase Coca-Cola company stock early on, but he didn't just go it alone. Instead, he suggested that his Quincy neighbors do the same. At a short-term high of $40 per share — accounting for inflation, that's about $600 in today's dollars — buying a bit of Coke was pricey but likely affordable. And Munroe, a trusted member of the community with experience in money and markets, was aggressively pushing the stock. Per the Motley Fool — and this may be apocryphal, but the sentiment is likely spot on — when farmers came by the bank to borrow money, Munroe would double the amount, but insist that the farmer use the additional amount to invest in Coca-Cola.
Many of Quincy's farmers and families took Munroe's advice. And most of them took a very long-term view of their investment, holding it for decades and for generations. That $40 share of Coke, accounting for stock splits and reinvested dividends, would be worth $6.4 million in 2010 per Tallahassee Magazine. And while townsfolk dipped into the Coke coffers here or there, that was the exception, not the rule. As of 1996, per the above-linked Baltimore Sun article, "the progeny of the farmers who heeded the banker [collectively] own 7.5 million shares valued at $375 million." And they also created the wall fresco above.
While the families of many of Quincy's Coca-Cola millionaires have since left the area — there was a sizeable exodus after World War II — a few still remain, investing in the town and its downtown area in particular. Quincy, as a whole, has benefitted from their largess; per the Sun, "when [town historian Johnny] Blitch wanted to restore the Leaf Theater in downtown Quincy, he called up several Coke millionaires. Julia Woodward, Florence Brooks, and Marcus and Betty Shelfer all chipped in. In a matter of days, Blitch raised $150,000, mostly in Coke stock." And when unemployment surged to 38 percent after the tobacco industry crashed in the 1960s, "the Coke millionaires came to the rescue, paying the tuition to send local students to college, for instance, and buying Christmas presents for the disadvantaged."
Bonus fact: Not everything Coke touches turns to gold. In April 2006, the soft drink giant introduced a coffee-flavored cola in the United States, called Coca-Cola BlāK. The product was so unpopular that Coke discontinued it in August of the following year.
From the Archives: One Armed Bandits: The Florida Panhandle town where people lost limbs in search of riches.