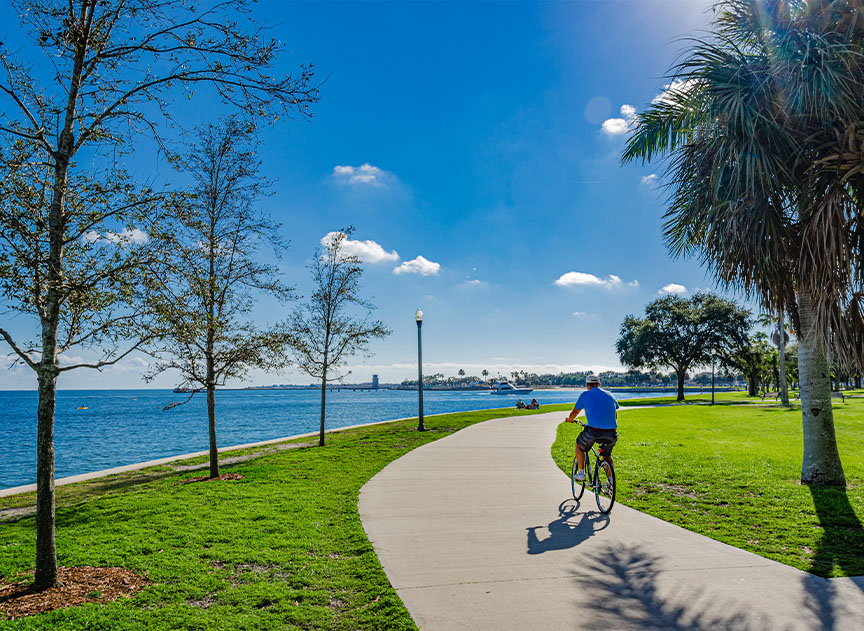 Vinoy Park, pictured above (via its official website), is an 11-acre expanse overlooking Tampa Bay from the west. It tends to have great weather year-round; mixed with a serene water view and ample space, it's a great place to go to clear your head. At least, that's what a local man named Al Nixon thought a few years ago.
And today, dozens of people are glad he did.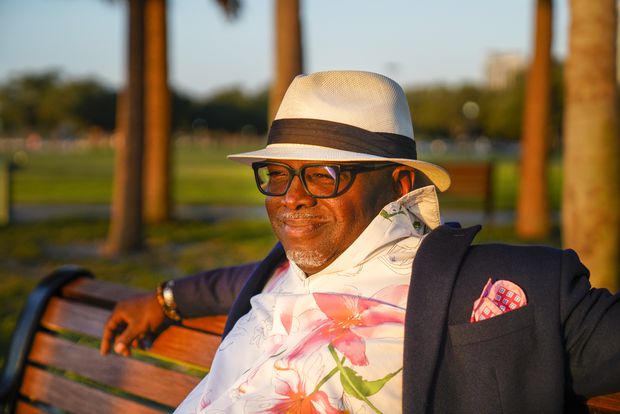 Nixon, pictured above in his trademark fedora, works for the city's water department, but the real impact he makes happens every morning. One day in 2014, he was in need of a break — nothing major, as the Tampa Bay Times reports, just "trouble at work, mostly." He found himself a bench at Vinoy Park early one morning and took in a sunrise, and it seemed to help. So he came back a few times a week from there on after.
Nixon wasn't alone in his morning routine, of course; many area residents took to the park in the mornings for a jog, walk, or bike. And as time passed, their faces became increasingly familiar to him and his to them. They'd pass each other a glancing smile or a nod; while Nixon was a stranger to them and vice versa, at least they were strangers together. And on one otherwise nondescript morning, one of those strangers did something strange — she spoke to Al. As he recalled, she said simply that "I know, when I see you sitting there, that everything is going to be alright."
By simply sitting there, Al had made a difference in that passerby's life. And now that the unspoken rule about not speaking to strangers was broken, the floodgates opened. Nods turned into "hellos" and "good mornings," which in turn transformed into small talk, and now, have evolved into full-blown conversations. Or, perhaps, impromptu therapy sessions. Al, reliably on his bench, prides himself on being a very good listener — as he told the CBS Evening News, "listening is the number one skill all mankind needs to know really well" — and it turned out, a lot of people could use someone like that in their lives. Now, each day, a handful of people come by just to vent or share what's on their minds. As a local news station reported, "his simple act of sitting on a bench and acknowledging strangers passing by has morphed into something more powerful than he could've ever imagined."
If you go by the park to talk to him though, make sure you get there early. Some mornings, there's a line of people waiting to talk to Al, and of course, he's not there all day. But if you get there too late, check out the bench anyway. It's easy to identify; at one point, his friends placed a plaque there with his name on it. It reads" Al: a loving and loyal friend and confidant to many, forever and always."
Bonus fact: The Tampa area has a lot of parks, but one of them is unique — it's owned by Cuba. José Martí Park (here's a map) is a tiny corner lot in downtown Tampa; one you'd easily miss if you weren't looking for it. As Atlas Obscura explains, "this small bit of American land was donated to the Estado Cubano (Republic of Cuba) in 1956, three years before the communist revolution. The Batista administration officially accepted the property, and the American consul in Havana certified the transaction." And that made it unique, at least recent years. As the Tampa Bay visitor bureau's website attests, "for 60 years, it was the only piece of Cuban-owned land in the United States." (That changed when the Cuban embassy opened in Washington D.C. in 2015.)
From the Archives: Mister Happy Man: Another friend with his own bench.