If you're in most places and you want to get onto a plane, there's a pretty simple rule you need to follow: don't bring a lot of bottles with you. For example, since 2006, the United States Transportation Security Administration limits the amount of water, sunscreen, and every other liquid that passengers boarding planes in the United States can take in their carry-on bag. Per the TSA's website, in that case, you are "limited to travel-sized containers that are 3.4 ounces (100 milliliters) or less per item," which is to say, not a lot. And for the most part, that rule applies to flights around the world. If you want to fly, you can't bring a lot of liquids with you.
Unless you're really into pesto sauce.
The word "pesto" comes from the Italian word "pestare," which means "to crush," a name adopted because the ingredients for a true pesto sauce are usually prepared in a mortar and pestle. There are a lot of different types of pesto sauce, but the one you're probably familiar with is called "pesto alla genovese" — pesto from the Italian city of Genoa. It's a green sauce consisting basil, garlic, pine nuts, salt, and Parmigiano-Reggiano cheese, all crushed up and then blended with olive oil. You know, this stuff.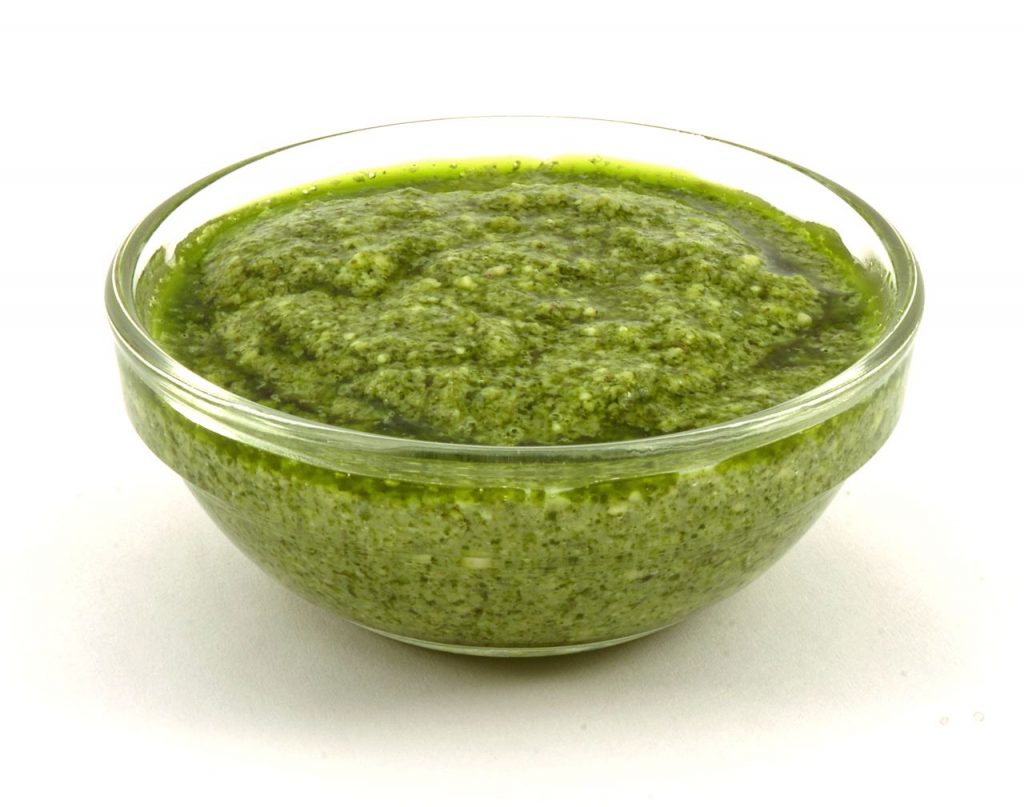 And it's pretty clearly a liquid, at least by the standards of the TSA and similar agencies.
In general, that's not a problem. Most people don't travel with pesto sauce. It's good, but you can buy it at the grocery store, so there's no reason to bring it with you from city to city. But if you had some really special pesto sauce, you're unlikely to pack pesto in your checked luggage — it's not something one typically finds valuable enough to risk it spilling all over one's clothes. So despite the fact that you're not likely to suddenly make yourself some pasta or at 35,000 feet, it may actually make sense to try to carry some pesto in your carry-on bag.
And as strange as that may sound, it's not uncommon — if you're in Genoa. As NPR reported, the airport in Genoa "limits liquids on the plane to a bit more than 3 ounces," just like most other airports. But because pesto sauce is a specialty in Genoa, a lot of people wanted to take some of the authentic stuff home. For the Italian government, this caused an odd problem. When the liquid limit rules went into effect, as NPR further reported, "airport security seized hundreds of jars of pesto sauce." And that was bad for Genoa. The city wanted its visitors' last taste of their trip to be that pesto sauce, not the bitterness of having the green stuff taken away at the airport gate. So Genoa changed the rules.
According to the airport's official site, passengers are limited to 100 milliliters of liquids, just like anywhere else, but with one major exception: "all the departing passengers are allowed to have one 500 grams maximum pesto jar or two jars of maximum 250 grams each." The pesto goes through its own separate security check — it's unclear what that constitutes, but hopefully, it involves some good pasta — and the passenger then proceeds to his or her gate as per usual. There's a special fee that one needs to pay for that privilege, though: "each jar will have to have an 'Il pesto è buono' sticker, acquirable through a minimum 50 cents donation." The fee goes to a good cause; 100% of the proceeds go to the Flying Angels Foundation, an organization that flies patients to doctors (or doctors to patients) when appropriate emergency health care is otherwise unavoidable.
The fly-your-pesto program, which debuted in 2017, was an overnight success; per the Guardian, " €500 had been raised in the first 20 days of the initiative." So in the end, everyone wins. The pesto lovers get to keep their edible memento, Genoa keeps tourists happy, the pesto doesn't get thrown out, and kids who would otherwise not get appropriate medical treatment get a second chance. 
Bonus fact: There's a downside to eating pesto — or there can be one, in rare cases. Pine nuts, one of the common ingredients in pesto sauce, can trigger a condition known commonly as "pine nut syndrome" or "pine mouth." As Bon Appetit explains, the condition "is an intense metallic taste that affects a small number of pine nut eaters. According to the FDA, symptoms develop 12 to 48 hours after pine nuts are eaten and can last anywhere from two days to three weeks. Every time you eat or drink, the good old sucking-on-a-penny taste worsens, overtaking the flavor of any food you're eating." It's not clear what causes it; per the Los Angeles Times, "the syndrome does not involve mold or bacteria" and "it is not an allergy." There's no treatment but the good news is that it goes away on its own, although that's hardly any solace during the up-to-three-week period.
From the Archives: The Never-Built Airport That Was Never Intended to be Used Anyway: It has no carry-on limits, though.