The Great Quicksand Gap of 1986 or So
Hi!
Welcome to another Friday, and with it, another Now I Know Weekender, where I do a quick review of the week that was — and share something else new. Today, I want to talk about quicksand. Or, specifically, why I grew up terrified of it, but if you're not too much younger than I am, you probably didn't.
At the top of yesterday's email, I asked you to take a one-question poll for me — one that I put on my Twitter account. Here's a screenshot of the question and the results, as of about 7 PM ET last night. 

As you can see, it's about even. A bit more than half of the 250 or so who replied said that they didn't think much about quicksand. But the other almost-half said that they were unusually afraid of the stuff as a kid. For the record, I am very squarely in the "quicksand is scary!" camp.
The voting results aren't surprising, though. A few years ago, a friend of mine mentioned that he noticed this odd phenomenon — Americans our age (born say, before 1986), tend to have grown up terrified of quicksand. But if you're only a few years younger — say, born in or after 1986 — you've probably never given quicksand a lot of thought. Like, take this quote from comedian John Mulaney, who was born in 1982. (And thanks to Alex M. for sharing!)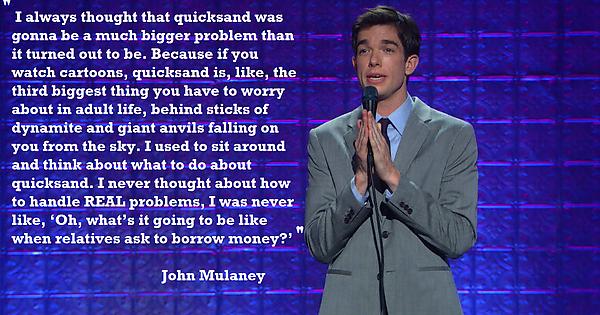 People who are roughly my and Mulaney's age feared quicksand as kids. People a few years young? Not so much. Being insatiably curious, I wanted to know: where did all the quicksand go?
I discovered three things. I did not, however, discover the answer, because the answer is likely unknowable. But don't fret, because the last thing I'm going to share is going to be as complete an answer as possible as you'll ever find. And it comes with a theory that I absolutely love.
First, though, I discovered where the quicksand came from — maybe. It turns out that the first known accidental death in filmmaking came from a quicksand-related accident. In 1914, an actress named Grace McHugh appeared in a short film titled "Across the Border." As the Colorado Transcript reported the next day, McHugh was in a boat that capsized; the cameraman, Owen Carter, jumped in after her and "succeeded in getting Miss McHugh to a sandbar." They weren't safe, though, as "both sank from view, and it is believed that were sucked down by quicksand." Quicksand, at least in the movie-making biz, was an early threat that became real.
Well, real-ish. The second thing I learned is that it is unlikely at best that quicksand claimed those lives for a very simple reason: you can't sink all that far into quicksand. Quicksand, basically, is just sand with a lot of water under it, so much so that it comes above the surface. If you stand in it, yes, you'll sink, and to make matters worse, the sinking creates a vacuum of sort, so you can't move your legs to climb out. But at some point — well before your chin hits the quicksand — you're going to stop sinking. Basically, you're too buoyant to sink all the way down. Here's a clip from the Mythbusters giving it a try, and here's one from National Geographic examining the issue. The issue with quicksand isn't sinking to your doom, but getting stuck and unable to get out (and maybe getting your lungs crushed).
And finally, the big thing I learned: while we don't know what happened to quicksand fears, we do know that movies used it as a plot device rather often in the 1960s, but it peaked quickly and has fallen off since. That's from this 23-minute article in Slate exploring the rise and fall of quicksand in popular culture, which you absolutely should read after reading this. (In fact, I'll share it again below in the selection of weekend long-reads. It's that interesting.) The author, Daniel Engber, concludes that we can't be certain why this all happened, but he shares a really fascinating coincidence-at-worst theory: quicksand wasn't the only thing that went away. So did sandboxes.
As it happens, there's another recent trend that's worth considering when it comes to quicksand—and one that bears on the games we played in city parks. In the 1970s, when I was born, roughly 800 sandboxes could be found in public playgrounds around New York City. By 1995, just 44 remained. (In Brooklyn, where I live now, the number dropped to four.) Over the course of my childhood, then, and through the concurrent decline of quicksand in the movies, the number of sandboxes in the nation's largest city dropped by 95 percent.
As both a child of that era and a parent in this one, I can attest: the sandboxes were once everywhere, and now they're gone. Maybe quicksand can't be scary right now because there's really no possibility of encountering wet sand anywhere other than a beach, and most people don't go to the beach often enough to have that happen. As I said above, that's not a definitive answer. Not even close. It's much more likely that TV and movie producers simply dropped the use of quicksand because it felt campy and overplayed (but the sandbox theory is a lot more fun).
In any event, there are basically two worlds of people out there: those who grew up thinking quicksand is very dangerous, and those who never really thought about quicksand at all. And strangely, it's likely that the two worlds don't even realize the other existed.
The Now I Know Week in Review
My apologies — I haven't had a chance to run through my inbox yet, so if you sent me a note about any of these, I haven't see it yet. I try to do so before Friday but I got stuck in a quicksand rabbit hole.
Monday: The Origins of the Football Huddle: This wasn't my favorite one — I think I tried a bit too hard to extend an interesting fact into a longer story.

Tuesday: The Green Vines Grow All Around: The village that stopped fishing and went green — literally.

Wednesday: Knockered Up: An early version of the alarm clock?

Thursday: The Very Long Novel That Saved a Man's Sanity: A really touching story, but also a tragically unnecessary one.
And some other things you should check out:
Some long reads for the weekend.
1) "Terra Infirma" (Slate, 23 minutes, August 2010). The story of quicksand in popular culture. But you knew that already.
2) "An old Virginia plantation, a new owner and a family legacy unveiled" (Washington Post, 10 minutes, January 2022). This story is incredible, and I don't want to say anything about it beyond that to not give away what happened. Thank you to reader Matthew J. for the tip!
3) "The secret MVP of sports? The port-a-potty" (ESPN, 17 minutes, January 2022). I think these two lines sum up what the story is about: "The portable bathroom business is at $17 billion and rapidly growing, largely because of the constant need at sporting events. And that makes toilet cleaners like Cansdale essential workers at our nation's sports fields."
Have a great weekend and watch out for quicksand,
Dan