The Little Bit of P-Word in the Coke
In the 1980s, Coca-Cola rolled out an advertising campaign that chastized soda drinkers for drinking Pepsi: if someone said "Pepsi," the response — as seen here — was to respond with "Don't Say the P-Word." The joke, of course, is that "Pepsi" isn't the only word that starts with "p" that we should avoid using in polite company; there are many others — and no, I'm not listing them — that Coke was hoping the ad campaign would make you think of, and associate with Pepsi. It was clear from the advertisements that Coke wasn't beneath making a joke best left in a high school locker room, so long as it was at their competitors' expense.
But when an actual high schooler jokingly introduced some Pepsi to the Coke universe, the reaction wasn't as jovial.
In 1998, the Coca-Cola Company came up with a way to encourage high school students to think like entrepreneurs (and soda sellers) while also supporting their schools. The company ran a contest called "Team Up With Coca-Cola" in which it "invit[ed] high schools throughout the country, except those that have exclusive contracts with PepsiCo Inc., to come up with a plan for distributing Coke discount cards locally," per the Washington Post. The winning school earned a $10,000 grant.
That year, Michael Cameron was a 19-year-old high school student at Greenbrier High School in Evans, Georgia, a 35,000-person suburb of Augusta and about a two-hour drive from Atlanta. (Here's a map.) If you're not familiar with the geography of soft drinks, Georgia is Coca-Cola country; the company's global headquarters is in Atlanta, and thousands of tourists flock there each year to visit the company's "World of Coca-Cola" attraction. Combine that with the hopes of winning a five-figure check, it shouldn't be surprising that Greenbrier participated in the "Team Up with Coca-Cola" challenge — especially when the local Coca-Cola bottling company in Augusta offered an additional $500 prize for the best school in Columbia County, where Evans is located.
As news spread that only four schools in Columbia County signed up to compete, the Greenbrier administration and student body decided to pull no punches in hopes of winning. They hosted something called "Coke in Education Day" (which quickly became "Coke Day" among the students) and invited some regional executives to visit the school and talk to the student body. As a capstone for the celebration, the student body — all dressed in red — arranged themselves to their bodies spelled out the word "Coke."
Well, almost all were dressed in red. Here's a picture of what Michael Cameron wearing what he wore that day: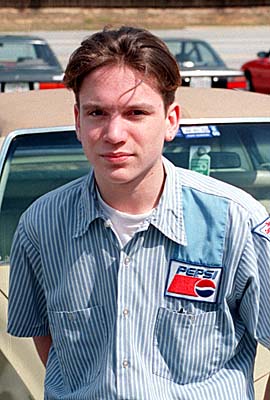 Yep: He wore a Pepsi shirt.
According to the New York Times, "Cameron wore a blue-and-white shirt with a small Pepsi logo underneath another shirt. He waited until just before the picture was taken to remove his outer shirt," ruining the picture. Cameron, in an interview with the Augusta Chronicle, claimed he wasn't nearly as devious as school officials had made out, saying that "the Pepsi shirt had been in plain view since his arrival at school Friday morning" and disputed that he revealed it only at the last second. But either way, school officials were not happy. Cameron was sent to the principal's office where, he told the Times, the two "talked about how important that day was to the school and that I might have cost the school 10 grand."
The prank, being insubordinate and churlish, earned Cameron a suspension. But being funny and a perhaps unintentional critique of corporate America, it also earned Cameron headlines. Coca-Cola executives were asked if they were offended, and of course, they weren't. In 2012, Vice sat down with Cameron to do a retrospective interview; the former prankster told the digital magazine that there were more than a handful of Pepsi-shirt wearers that day and the Coca-Cola team took it in stride: "a Coke representative actually saw my shirt, punched me on the shoulder and was like, 'Ah, ha! Another one.'" Pepsi execs, on the other hand, saw an opportunity to earn some goodwill; a spokesperson told the Times that "it sounds like Mike's obviously a trendsetter with impeccable taste in clothes. We're going to make sure he's got plenty of Pepsi shirts to wear in the future once we track him down." Everyone ended up coming out looking pretty good — except for the administration of Greenbrier High. They looked like educators who were willing to punish a student in order to get some corporate cash.
And a few days later, the high school reversed course — somewhat. By the time the story spread nationally if not globally, Cameron had already served his suspension, so there was no undoing that. But the next day, Greenbrier decided that Cameron's transgression would be wiped from his official permanent record, according to the Associated Press. They did not, however, apologize to Cameron for the apparent overreaction; as he told Vice, "they sort of said they 'would have handled things differently,' but no one ever apologized or spoke to me directly."
It's unclear what school won the "Team Up With Coca-Cola" grant, but if Greenbrier was the winner, it went unreported.
Bonus fact: In 1985, Coke had a smart idea for a public relations campaign: create a can that astronauts could use in space. The cola giant, as the National Air and Space Museum summarizes, "developed a can that would work in weightlessness to keep the cola fizzy without spewing out of the can," and NASA agreed to give it a try in a Space Shuttle flight. Pepsi, not wanting to be left out, also offered to provide NASA with a can design to try– and NASA accepted. Per the Air and Space Museum, "both Coke and Pepsi products were flown on the STS 51-F mission in 1985 so crew members could evaluate the dispensers and do a taste test. Results were mixed and NASA did not add either company's product to the Shuttle food pantry."
From the Archives: Where Coke and Pepsi Competed for Burps: The bonus item talks about space soda a bit more.