The Man Who Liked Himself So Much, He Went to Jail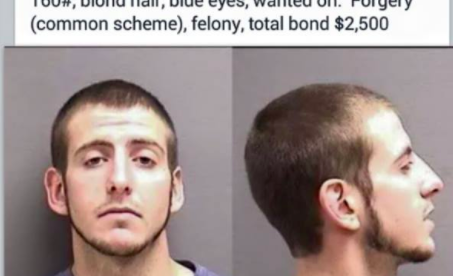 Only about 80,000 people live in the Cascade County, Montana, but with a total area of 2,711 square miles (7,021 km2), finding any one particular person can be like finding a needle in a haystack. And when you're looking for a suspect in a criminal investigation, that's a bad problem to have.
To address this, in 1985, a group of Cascade County citizens did what many others have done in the past, and partnered with local law enforcement to create a citizen's brigade of tipsters and watchdogs. Called the Great Falls/Cascade County Crimestoppers, the non-profit organization solicits information from the community to help solve crimes. And in recent years, they've had a new tool at their disposal: Facebook.
The Great Falls/Cascade County Crimestoppers Facebook page boasts nearly 5,000 followers, constituting a large percentage of residents even if 50% of those accounts are fake or are outsiders. The people who run the page post mug shots of the county's most wanted suspects; for example, on August 5th of this year, they posted mug shots of the area's top 20 men and women at large. The community was asked to call with any tips — and yes, there's the promise of some sort of reward for a tip which lands the suspect. And the group shares results, too; one such suspect was arrested just five days later in a nearby county.
That result is what the Crimestoppers were after in April of 2015 when they posted the below.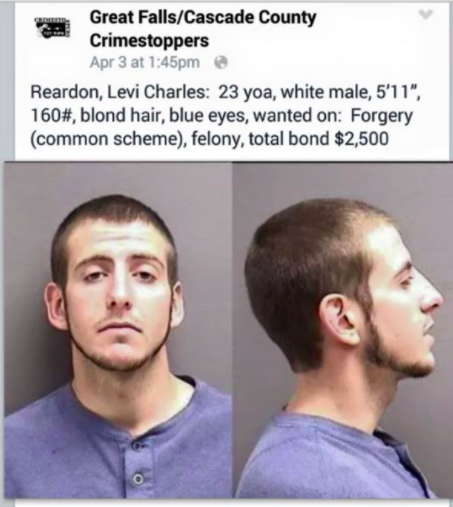 But things didn't quite go to plan.
They went much better than expected.
Levi Charles Reardon, pictured above, had previously been "questioned by police in connection with the theft of a wallet and check forgeries" according to the New York Daily News. Implicitly, he was released after questioning, but the police ultimately obtained a warrant for his arrest. The only question was: where'd Levi go?
The Crimestoppers posted his mug shot and info to the Facebook page. And then, this happened: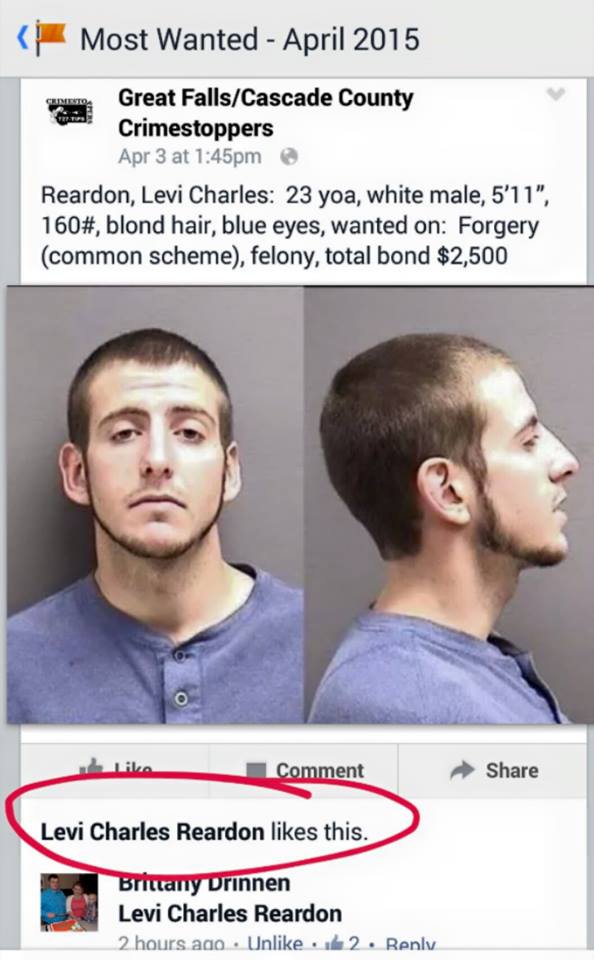 That's right: Mr. Reardon liked his own mugshot.
The Crimestoppers let local law enforcement know about this rather dumb move by an alleged criminal, and the police went into action. The police department didn't go into whether they used Facebook data to track down this less-than-astute suspect, but it likely helped as, ultimately, they found their man. On April 24th, police arrested Levi Charles Reardon. Bond was set at $2,500 and his trial date was set for the end of August (and the results have gone unreported).
He probably didn't get any of the reward money for his tip.
Bonus fact: When the Facebook "like button" was first conceived, it was called the "awesome button" — but Facebook founder Mark Zuckerberg wasn't thrilled with the name. So, we got the "like" instead.
From the Archives: Arrested, Over 1,000 Times: The man with many mug shots. (A very early, and very short Now I Know.)
Related: Facebook for Levi Charles Reardon.