The Man Who Was Dying to Be an Actor
If you can't remember most of your dreams, you're probably not alone. Most people remember one or two dreams a week at most, according to Discover Magazine, and some can't remember dreams almost ever. And as a result, it's hard to make our literal dreams come true.
For Chuck Lamb, that wasn't a problem, though. His issue? The dream he wanted to turn into reality was a bit strange. One morning, Lamb woke up from a dream in which a detective was standing over his dead body. It was a calling — something he wanted to turn into reality. Well, not real reality, because that would involve Lamb actually dying, and that'd be stupid. Instead, Lamb saw the dream as a sign that he should look into a new side-career and hobby:
Playing dead on TV.
And it was a dream fulfilled. That's him, not actually dead, below.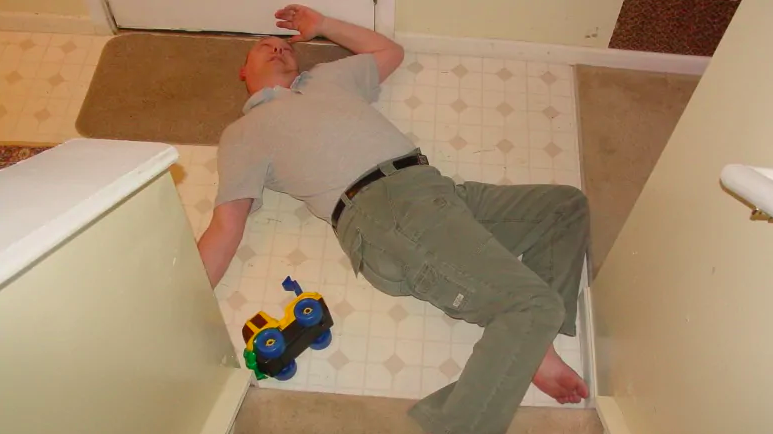 Like many, Lamb, when growing up, hoped to be the next great actor. But in late 2005, at age 47, that hadn't happened yet. As the New York Times reported, Lamb went down a different path: "he finds himself with six children, working as a computer programmer for Nationwide Insurance. Mr. Lamb has deep creases under his eyes, skin as pale as copy paper, precious little hair and no acting experience. Any notions he once held of becoming the next Sean Connery died long ago."
And yet, his dream, like him, didn't really die. He registered himself a website, DeadBodyGuy.com (which, unfortunately, is now a morass of tables and frustrating ads) and worked with his wife to create photos of him, dead, in various positions. (An spill down the stairs can be seen above.) Lamb's hope was that the website would spread virally throughout the Internet, ultimately catching the eye of a movie producer or two. Here's another picture of Lamb, dead, to help demonstrate that he isn't just a staircase-death expert; he was really good at being mostly dead.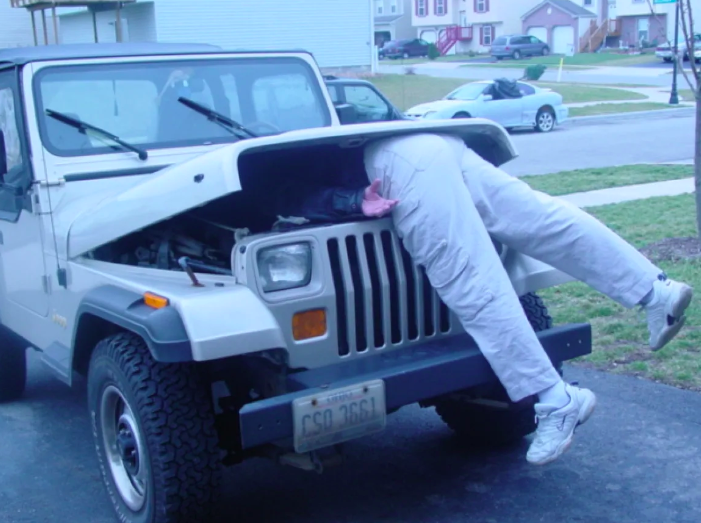 Lamb's website worked. As the CBC reported, "six weeks [after he launched his website], his story landed on the front page of The New York Times. He then started landing interviews on CNN, Good Morning America and The Today Show about what he was doing." That last appearance caught the eyes of a TV producer, who invited Lamb to play a corpse in an episode of "What I Like About You." While uncredited, Lamb appeared on-screen for the first time dead. (Note that the interviews with CNN, GMA, and TODAY featured him alive, which wasn't his goal.) But with his limp foot in the door, more opportunities came his way.
As of 2019, Lamb now has fourteen film credits to his name, all of which are for laying there still, barely (and officially, not) breathing, eyes slightly ajar. And yes, in some of them (most notably, perhaps, the 2010 Danny Aiello comedy "Stiffs"), his name appears in the credits, just as he always wanted.
Bonus fact: Uncredited performances aren't all that uncommon, but sometimes, that changes in future releases. As WhatCulture notes, "for the original Star Wars, James Earl Jones asked not to be credited. Part of Jones's decision was because he considered David Prowse's performance inside the Vader costume to be the more defining of the two performances." Jones again declined to be credited for Empire Strikes Back, but he's in the credits in Return of the Jedi — and in re-released versions of the other two films.
From the Archives: Dead Man Walking: Officially, he was dead, but the fact that he was alive suggested otherwise.