The Man Who Won a Trip to Mars
When it comes to consumer products, shaving cream isn't the most glamorous thing out there. It's a commodity that you buy for practical reasons, so when it comes to the brand you prefer, your decision is hopefully based on quality and trust. That is, you don't buy Brand X because having it in your medicine cabinet will make you seem trendy or popular; you buy Brand X because, in the past, Brand X has helped you or someone you know achieve a close, comfortable shave.
If you're a shaving cream marketer, therefore, there's not a lot of room for creativity — ultimately, you're just trying to get across that practical message. But in the 1920s, one brand decided to get a little silly. And it kind of backfired.
Burma-Shave no longer exists but, at its peak in the 1940s, it was one of the top-selling shaving cream brands in the United States. It got its start about twenty years earlier, gaining market share via a quirky roadside billboard advertising motif. As seen below, instead of simply saying "Buy Burma-Shave" on one big sign, it created a one-sentence rhyming message via a series of five or six small signs. (The one below, to make it easy on you, reads "Big mistake / Many make / Rely on horn / Instead of / Brake" followed by a Burma Shave logo on the sixth and final sign.) They tried to sell shaving cream by making driving a bit more fun.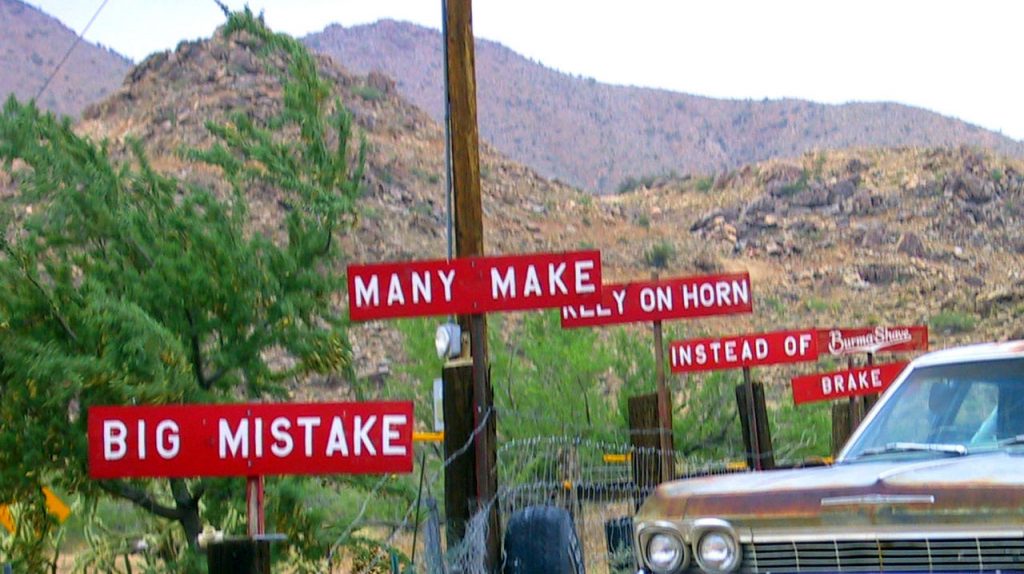 See? Fun!
And it got even more fun. In the 1950s, with sales falling, the company decided to turn the rhymes into an offer. Specifically, some signs promised free shaving cream — but only to those who had suffered a car accident. The signs read "Free offer! Free offer! / Rip a fender off your car / mail it in / for a half-pound jar / Burma-Shave" and were expected to be taken as a joke. But some unfortunate drivers saw it as a silver lining — they sent in bumpers from their wrecked vehicles. (And some enterprising customers sent in bumpers from toy cars, per Snopes.) Burma-Shave, being good sports, followed through on the promise; they sent coupons for free shaving cream to anyone who participated.
But that wasn't their intent. They were just trying to make a joke. So the next time, Burma-Shave made sure their promise was, clearly, an empty one. In 1955, they introduced the following roadside campaign:
Free — free / a trip to Mars / for 900 / empty jars / Burma-Shave
There was no way anyone would take that seriously. First, no one, to date, had been to Mars. (That's still true today.) Second, there's really nothing to do there. Third, there's no way back. And finally, just in case, there's really no way for one person to go through 900 jars of shaving cream in a reasonable amount of time.
Burma-Shave, however, didn't account for Arlyss French of Appleton, Wisconsin.
French, as the Wisconsin State Journal explains, really wanted to win. And he was in a position to do so — he "managed the town's Red Owl supermarket and offered to pay customers 15 cents for every empty Burma Shave jar they brought in." And he didn't rely on word of mouth, either; per the publication, French "ran a full-page ad [seen here, via Boing Boing, and no, it didn't rhyme] in the paper reading, 'Send Frenchie to Mars.'" And the town responded. Before long, French had the 900 jars he needed. Burma-Shave owed him a trip that was literally out of this world.
At first, Burma-Shave responded with a rhyme of caution: "If a trip to Mars / you earn / remember, friend / there's no return," per a book on Route 66 roadside sign history. Undeterred, French pressed on, demanding they send him to Mars. Finally, Burma-Shave came up with a solution — a trip to Germany. As the Los Angeles Times recounts, "there was a little town in Germany called Mars–spelled Moers actually, but pronounced Mars–population about 122, near Dusseldorf." French and his wife were treated to two tickets — round trip! — to the small German village.
The couple took the shaving cream company up on its loophole-filling offer. When they arrived in Moers, the locals threw a party in their honor, but there are no reports of anyone dressing up in green suits or donning antennae.
As for Burma-Shave, the brand didn't last to see anyone, or anything, make it to Mars. Tobacco giant Philip Morris purchased the brand in the mid-1960s and retired it shortly thereafter. Except for a brief (as intended) reintroduction in the 1990s, Burma-Shave is long-gone.
Bonus fact: Martian sunsets are blue.
From the Archives: The First Song on the Planet: The song was Happy Birthday. The planet? Mars.