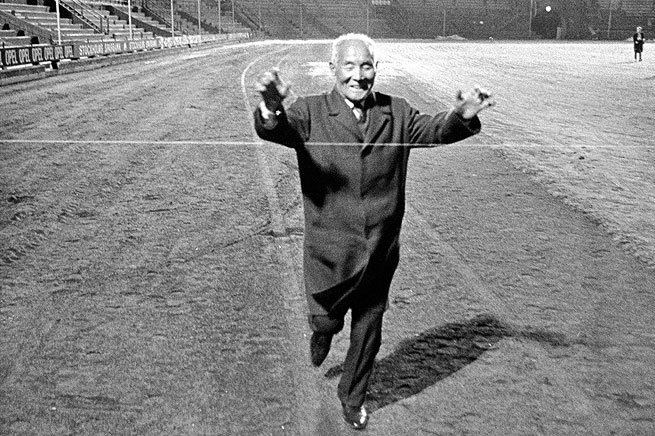 The 1912 Summer Olympics were held in Stockholm, Sweden, and as 28 nations gathered to compete in more than a dozen sports. As one of the earliest Games, there were, of course, a good number of peculiarities; for example, tug of war was on official Olympic sport and there were art competitions. And for the first time ever, competitors from Asia joined the Games — two athletes from Japan made the long trek to Stockholm.
And one went missing. Officially, at least. And when he was finally found, he set a record — but not one you'll find in the Olympic record books.
Shizo Kanakuri, a marathoner, and a sprinter named Yahiko Mishima were those two Japanese athletes. While Mishima wasn't considered a threat to take home a medal, the same wasn't true for his compatriot. Kanakuri, in his marathon qualifier back home, ran a then-25 mile/40 km affair in a reported two hours, 32 minutes and change, which likely would have been considered a world record had that distance been standard. (Marathons are typically 26.1 mile/42 km races, but for the 1912 and 1920 Games, this shorter distance was used.)
Unfortunately, almost everything that could have gone wrong for Kanakuri did just that. Getting from Japan to Sweden wasn't as easy as it is today — one simply couldn't just get on a plane. Instead, the pair had to take a ten-day train ride across the Russian expanse. Over the course of the trip, Mishima fell ill, and Kanakuri tended to his needs, finding little time to prepare for his own race. And to make matters worse, Kanakuri's preparation was counterproductive. As historian Kazuo Sayama told the Japanese Times notes, "there was a belief at the time [among Japanese competitors] that perspiration made runners tired." And to make matters worse, the way to prevent sweating was to dehydrate yourself. Continued Sayama, "Kanakuri's initial approach was to abstain from any drink at all."
That's not a good way to run a race, and for some reason, that's thankfully not the approach Kanakuri took at his qualifying race back home. But the Olympics were the big time, and he wasn't leaving anything to chance, so he drank very little on the days leading up to the race itself. To make matters even worse, race day in Stockholm had unusually high temperatures. Of the 68 athletes to compete in the marathon, only 34 finished. And Kanakuri wasn't one of them — about 27 kilometers into the race, he passed out. As Ozy notes, "the exhausted Kanakuri collapsed from heatstroke. He was taken in by a local family and fell asleep on their couch," unable to continue.
But Kanakuri didn't know that 33 other racers failed to complete the event, and as a result, was ashamed at his failure. So unlike the others, instead of notifying event officials that he had withdrawn, he just left. Ozy continues: "Upon awaking, the humiliated athlete opted to return to his hotel and then to Japan without notifying race officials." As far as the Swedes knew, Kanakuri simply vanished into thin air. Officially, he was a missing person — and remained one for roughly 50 years.
Sweden didn't look very hard for Kanakuri, though; had they simply paid attention to the 1920 and 1924 Olympic marathons, they would have seen him running in those races. His absence faded from memory until 1967, when a Swedish television program tracked him down to his home back in Japan. The TV producers made Kanakuri a unique offer — they wanted him to come back to Stockholm to finish his race. The then-75-year-old agreed, as seen above. He finished the race with an unofficial time of 54 years, 8 months, 6 days, 5 hours, 32 minutes and 20.3 seconds — a mark that Guinness World Records recognizes as the "longest marathon in history." 
Bonus fact: Mishima's race record was… well, not good. He competed in the 100m and finished last in his heat. He competed in the 200m event and finished last there, too. And he ran in the 400m and finished second in his qualifying heat and made it to the semifinals — but that isn't quite as impressive as it sounds. There were fifteen qualifying heats in that race and Mishima's had only two runners, so his second-place finish there was also a last-place finish, and Mishima failed to run in the semifinals, citing pain in his right leg.
From the Archives: Pulling for Gold: Tug of War in the Olympics.