On July 27, 2012, the Games of the XXX Olympiad — the 2012 London Summer Olympics — will officially begin. An estimated 10,000 athletes from over 200 countries will compete for gold, silver, and bronze in 26 sports. The diversity of the events is impressive: syncronized swimming, archery, slalom canoeing, beach volleyball, table tennis, and BMX bicycle racing all make this Games' list. Some critics may object, claiming that these are odd choices given the limited number of events (baseball and softball were both dropped for 2012 and golf, while suggested as a replacement, did not make the cut). But the truth is that the Olympics has a long history of including competitions which many would find curious.
You know, like tug of war.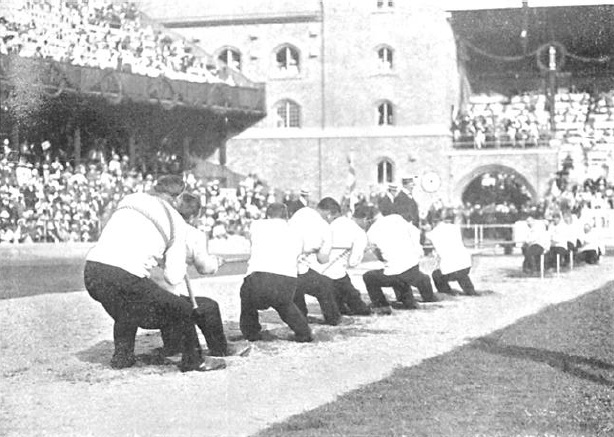 Tug of war may, in present day, may be a game common mostly to younger kids, but for a long time, it was pretty serious business. It dates back to ancient China where hundreds of competitors would line up on either side of the rope and represent either the sun or the moon in a struggle for dominance over Earth. In more recent times, of course, the game has been relegated to summer camps, corporate team building exercises, and a comedic punchline in Revenge of the Nerds. But from 1900 until 1920, it was an Olympic sport.
Over the course of those five Olympiads (the 1916 Games were cancelled due to World War I), a total of 128 pullers from 10 different nations competed in tug of war. And it was, throughout, a comedy of errors:
In 1900, a team made up of three Danes and three Swedes triumphed over a French squad in the lone match of the Olympiad — the only other team to sign up, an American one, did not compete because three of its pullers were in the hammer toss on the same day.
Four years later, in St. Louis, a quartet of American teams made their way into the semi-finals, and a team from Milwaukee beat one from New York in the gold medal match. But the New York team, for reasons unknown, did not show up for a silver or bronze medal match (both against teams from the host city of St. Louis).
In the 1908 London games, seven teams signed up but two — from Greece and Germany — did not show up. The Liverpool Police team faced off against an American team in the lone best two out of three preliminary match, with the winner advancing to the quarterfinals. The Liverpool team won the first pull but the Americans protested, arguing that the Liverpool team's choice of footwear — service boots — gave them an unfair advantage. When the Americans' grievance was denied, they forfeited.

Five teams signed up for the 1912 Games — England (the London Police), Sweden (Stockholm Police), Austria, Bohemia, and Luxembourg — and organizers had designed a ten match round-robin contest between them, with teams facing off against each other exactly once. The matches were supposed to take place from June 7 to June 12, but Bohemia and Austria did not show up for their first day of matches. England and Sweden were present on June 8th (as pictured above), and Sweden won the first pull. On the second, the London team sat down after a long struggle and was disqualified. When Luxembourg also failed to show up, organizers declared Sweden the winner and England the silver medalist — after only one match

.
The 1920 event went off smoothly, with eight pullers from five nations competing and with no disqualifications, as the London Police recaptured gold. Three members of the team — Fredrick Humphreys, Edwin Mills, and John James Shepherd — ended up with three medals (two gold, one silver) during tug of war's short run as an Olympic sport.
Bonus fact: Tug of war has an international governing body called the "Tug of War International Federation," or "TWIF." The 2012 Tug of War World Championships will be held in Switzerland in early September. More information, including the official rules of the game and the anti-doping (!) regulations can be found here.
From the Archives: Marathon Madness: More strange goings-on from the 1904 Games.
Related: A 100′ tug of war rope will run you well over $100. On the other hand, Shel Silverstein's Where The Sidewalk Ends costs about $12. (And if you don't know why that book is related to the above, you would be well served by reading the late Mr. Silverstein's poetry more often.)
NOW I KNOW is a free email newsletter of incredible things; you'll learn something new every day. Subscribe now!