The New York Police Department's Giant Problem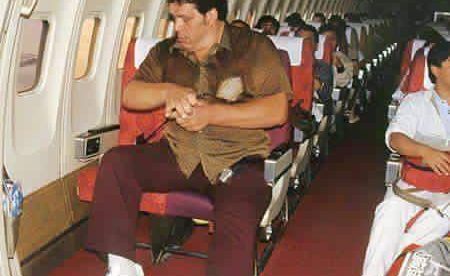 Pictured above is the late André René Roussimoff, better known as André the Giant. He was a literal giant — billed at 7'4″ and about 520 pounds. His size opened two career doors for him; first, as a professional wrestler, but then — and more importantly — as Fezzik in the 1987 movie classic The Princess Bride. It also allowed him to drink ungodly amounts of beer, wine, and the like. Legend has it that on one occasion, he drank 102 beers in 45 minutes and on another, he downed a dozen bottles (bottles!) of wine in about three hours.
While he had a larger-than-typical tolerance for alcohol, the Giant could — and often did — get rather drunk. As the LA Weekly reported, "[on] the night of The Princess Bride's first script read-through, Andre got so drunk at the hotel bar that he passed out in the middle of the lobby. The hotel employees couldn't move him, so they put velvet ropes around his snoring corpse and told the maids not to vacuum until he woke up." That's a problem for the hotel in that case, but it could be a problem for others if situations lined up differently — as the New York Police Department learned all too well.
After principal shooting for The Princess Bride wrapped, André the Giant and Cary Elwes — Westley in the movie — went out drinking, to no one's surprise. To start the night, they ended up hitting a Manhattan bar called P.J. Clarke's, one of André's favorite haunts. That, per Elwes, is when he noticed something amiss — in the words of the New York Post, "as André was downing his usual, a mix of hard spirits served in a beer pitcher, Elwes noticed a man sitting alone watching them."
As the night progressed, André and Elwes bounced from bar to bar, and all the while, this mystery man followed — always alone, never treating himself to a drink. Elwes, perturbed, pointed out their stalker to his large supporting actor. But André did not share his concern. Their traveling companion wasn't there to hurt them — quite the opposite, in fact. He was a plainclothes New York police officer, assigned to shadow the drinking Giant during his nights out on the town. Apparently, in a prior such binge, André the Giant got very drunk and, while waiting for a car to drive him home, fell over — injuring a passerby in the process. (Nearly seven feet and more than 500 pounds of drunk guy smashing into you — that's gotta hurt.) Thereafter, to prevent such injuries — and to protect André himself — the NYPD had a special one-man detail for the Giant's nights out drinking.
Bonus fact: The Princess Bride involved sword fighting, rock throwing, Rodents of Unusual Size, and many other things that can cause actors to fall prey to injury. And there were certainly some unreported bumps and bruises along the way. But Mandy Patinkin — he played Spanish master swordsman Inigo Montoya — hurt himself in an unusual way. Patinkin was in the only scene featuring Miracle Max, played by comedian Billy Crystal. During the shoot, Crystal would ad-lib 13th-century jokes throughout, and Patinkin had to hold back his laughter to not ruin the scene. This proved more difficult than Patinkin thought it would. He told NPR "I bruised the muscles on the side of my rib because I was so tight trying not to laugh."
From the Archives: The Deleted Scene from The Princess Bride: Never go in with a satirist when humor is on the line.