The People You Can Check Out of the Library
Libraries are, increasingly, more than just books — they're repositories of information, with all that knowledge made open to the public. You can scan decades-old magazines now stored on microfiche, check out CDs and DVDs (and maybe vinyl and VHS tapes if you have a device that can play them), and surf the Internet with reckless abandon. If a person's experience or ingenuity is stored on a form of media, it may be available for check out.
But what about all that knowledge which isn't written down or recorded — what about the oral histories? If an organization called "the Human Library" gets its way, you'll be able to check that out of the library, too. That is, you'll be able to check out that other person.
The Human Library aims to reduce stigma and prejudice through the power of storytelling. According to Williams University, the Library "was founded in 2001 in Denmark to promote human rights and social cohesion." People volunteer to be "human books," which, in the words of Poets and Writers magazine, are "members of the local community with uncommon stories to share, 'on loan' for the public to listen." And according to a cached page on the organization's website, the books — all unpaid volunteers — are often selected because they've been "subjected to stereotyping and prejudices [and] are open about who they are and prepared to share their experiences."  For thirty minutes at a time, patrons of the regular library can meet with these human books, listen to their stories, and share in their experiences.
Over the past few years, these human libraries have popped up in many places. Typically, these are short-term events — a day or two, maybe a couple more — but the theme is basically the same. In 2012, for example, a London NGO hosted a dozen "human books," telling stories about drug and alcohol addiction, agoraphobia, homelessness, and more. Another example: in 2014, the University of Rochester (NY) and the local library partnered to bring fourteen "human books" together for a one-day event, cataloged below (via the Daily News, larger version here), with more detail and some photos from the event available at the library's website.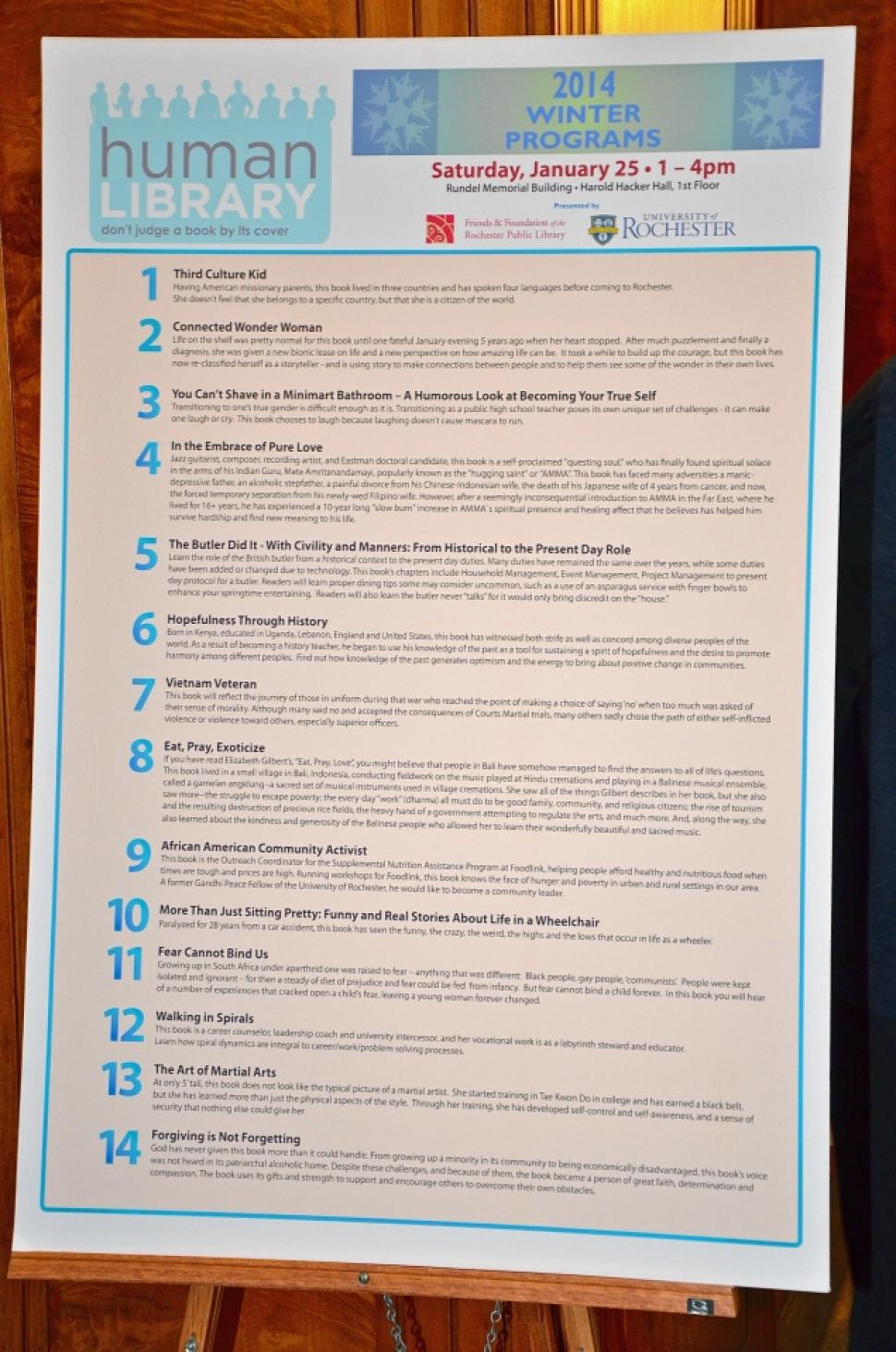 By some estimates, there have been 150 or more such events over recent years. As of this writing, Human Library's website
is undergoing a facelift
, so it may be hard to find an event if you're interested in attending one. But you can follow the organization on
Facebook
,
Twitter
, and if you're in the United Kingdom, you can check out
their site
, too.
Bonus Fact
: Apparently, when it comes to the Rochester area and libraries, creativity is the norm. The Honeoye Public Library isn't limited to books and the like; they also have about a half-dozen fishing rods and tackle boxes available to check out. The director of the library
told NPR's All Things Considered
that one of the goals of the library is to help visitors learn about the community. The library is near the Finger Lakes, where fishing is common year-round, and loaning out fishing gear is, per NPR, "a way for the library to speak directly to the people they serve, where they're serving them."
From the Archives: Super Seed Bank: Check out the bonus item.
Take the Quiz: Name the largest libraries in the United States.
Related: A home library kit. This is one of those things that I've always kind of wanted even though I have no use for it whatsoever.