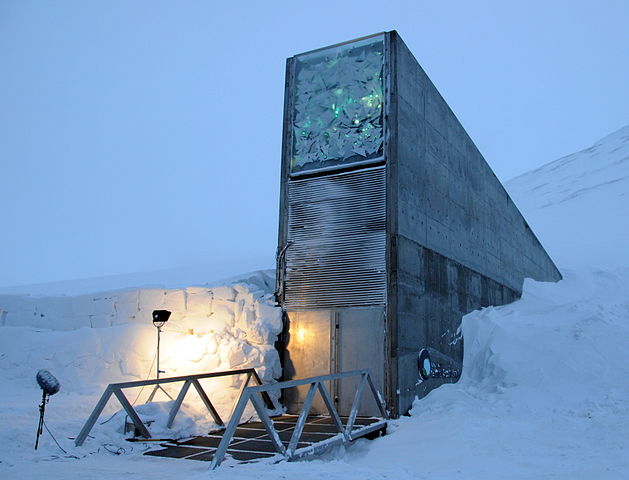 The picture above looks like something out of the Empire Strikes Back – perhaps an entrance to the secret Rebel base on the ice planet of Hoth. Like the Hoth base, the structure is designed to hide important things from danger. But unlike the Empire storyline, the things being protected are not people.
They're seeds.
And the image above is of the Svalbard Global Seed Vault, the world's largest repository of seeds.
There are about 1,400 seed banks throughout the world, each keeping a set of seeds of flora to their regions. The goal of these seed banks is to make sure that we can re-plant virtually anything which would otherwise be lost to antiquity, be it due to disuse, natural disaster, war, etc. So long as there are seeds in the seed bank, there is always a chance for renewal.
But while there are a lot of seed banks, there was not a lot of duplication of efforts. Plants indigenous to only one region may have had their seeds "backed up" only in that area's seed bank, and, if anything were to happen to the region, the seed bank could be destroyed. While uncommon, this is not unheard of – as the Associated Press noted, seed banks in both Iraq and Afghanistan were casualties of war, while one in the Philippines was destroyed during the 2006 typhoon there. Recognizing that localized seed banks were inadequate, a number of NGOs worked with the government of Norway to create the Svalbard Global Seed Vault.
The vault, costing a total of $9 million, is near the town of Longyearbyen in Svalbard, Norway, less than 1,000 miles from the North Pole. It is built into a sandstone mountain with its entrance (pictured) leading down a nearly 400 foot corridor into where the vault itself is situated. (Here is an artist's rendering of its placement within the mountain.) The location was chosen because it provides an unusual combination of environmental factors. First, there is little to no tectonic activity in the area, making an earthquake extremely unlikely. Second, the vault is situated so far above sea level (over 400 feet) that even the melting of the ice caps would keep it out of reach of floods. And finally, the permafrost in the area helps keep the vault cool, allowing the seeds to stay preserved for an extended time even if the vault loses power.
As of March of 2010, there are roughly 500,000 different types of seeds in the vault. The goal is to approach one million seed types, in hopes of covering the diversity of offerings the plant world has to share.
Bonus fact: Pima County, Arizona's public library system does not only lend out books — it also "lends" out seeds. The "seed library" will give "borrowers" seeds to plant in their own gardens, but asks that when the seeds grow into crops, that the "borrowers" collect seeds and return an equal or greater amount to the library. The seed library notes that "there are no due-dates or overdue fines" for the seeds.
From the Archives: Dying at All is Not Allowed: Longyearbyen is not only home to an immortal seed project, but also to a very odd rule: people aren't allowed to die there.
Related: Your very own survival seed vault. Literally thousands of seeds (of a dozen or so types) hermetically sealed in case Darth Vader wipes out your house or something. 4.6 stars on 31 reviews.
---
Now I Know takes me dozens of hours each month to write and put together. If you appreciate the content, please consider making an annual, monthly, or one-time gift in support of the project.

This month, Now I Know is also brought to you by:
Thank you to this month's sponsors!
---
NOW I KNOW is a free email newsletter of incredible things; you'll learn something new every day. Subscribe now!