The Postal Workers Who Deliver Peace of Mind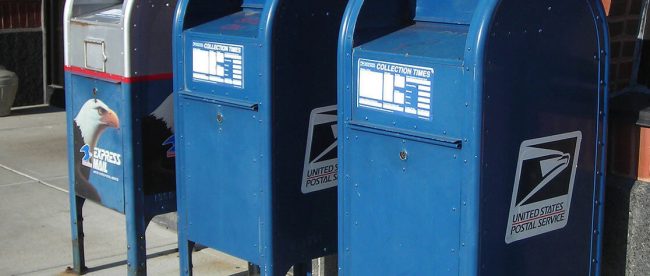 A long, healthy life is a gift unto itself. But it often comes at a cost: loneliness. As friends and family move away or move on, older people can find themselves living alone, rarely interacting with other people on a regular basis. Sure, you can always pick up the phone and connect with a loved one, but it's not the same as seeing them in person.
For those in that situation, the feeling of isolation can be daunting. For those of us with parents or grandparents who live alone, it can also be frightening — if something were to go wrong, we may not learn about it until it's too late.
And this problem may just save the post office.
In most developed nations, everyone has a mailbox. And more importantly, everyone has a postal worker who comes to that mailbox on a regular, often daily basis. Unfortunately for postal services around the globe, we don't use our mailboxes as often as we used to. In most cases, it's easier and cheaper (and better) to call, email, text, or FaceTime someone. And that means less revenue for the post office.
As digital communications have expanded, post offices far and wide have looked at other ways to make money — and it turns out that elder care may provide an opportunity. In 2013, the postal service on the small British island of Jersey piloted an out-of-the-box idea. As the BBC reported, as part of a pilot program, postal workers in Jersey — for a small fee, "check on the welfare of more elderly or vulnerable people in the island." The goal of the program was two-fold (beyond the new revenue stream for the postal service): peace of mind for the remote family members and a little bit of additional human interaction for those who are otherwise often alone. And it was a success. According to a postal service spokesperson, the agency "found that not only do those who have signed up to the scheme find the face-to-face contact reassuring and welcoming, but it also provides peace of mind for their family, who may not be able to visit regularly."
Perhaps seeing how well this small test cast performed, other parts of the UK have tried the same, and the idea has even spread outside its borders. In November 2018, for example, the Guardian reported that France had begun a similar program. Approximately 6,000 people ranging from their 50s into their 90s take advantage of the service, with them or their loved ones paying approximately €20 (about $22) per month to get a weekly visit — and more. Per the Guardian, family members receive "a report delivered to the family and an option of a 24-hour helpline and alert system," allowing for that extra layer of confidence.
Don't expect this type of service to spread everywhere, though, as it doesn't seem to always work. A few years back, Germany piloted something similar but, in 2017, ended the experiment — according to German publication Waz, it didn't prove popular enough to continue. But for the areas where it does, it's a win-win — more revenue for a struggling institution, and more dignity and security for the families that it helps. 
Bonus fact: In most places, caring for older generations is something that families do because it's right and proper. But in Singapore, not doing so can get you in trouble. There's a legal provision, known as the Maintenance of Parents Act, which allows for Singaporean citizens age 60 and older (who cannot subsist on their own) to demand support payments from their children. Per the act, "parents can sue their children for lack of maintenance, in the form of monthly allowances or a lump-sum payment."
From the Archives: Koreikashakai Prisoners: How some elderly Japanese people get around loneliness.