The Rainbow Grandpa Who Saved His Village
When it comes to gentrification, it's common to see differences in opinion. Many see the process as a net positive — areas which are often rundown and may have a lot of crime become safer and more inviting for businesses and residents alike. But to those who live in the neighborhood, it's often not appreciated. Not only are those people often unable to afford rents in their redone communities, but, despite the problems in their backyards, it's still home to them.
You can count Huang Yung-Fu in that second group. Huang was born in China in 1924 and moved to Hong Kong shortly thereafter. But he's called the Nantun District of the Taiwanese city of Taichung home since the 1970s. That almost came to an end about ten to fifteen years ago when developers began buying up the property; Huang's village had fallen into disrepair and most of his neighbors were selling their homes at a premium and moving on. Huang was offered a similar deal and passed on it, but eventually, the government stepped in. In 2015, Huang told the South China Morning Post that "we had a letter five years ago saying the government wanted to knock it down to build something new. They said we could take some money or move to a different house." He didn't want to move. So instead, he began to paint.
At first, Huang was painting out of boredom — he was already in his 80s and had a lifelong love of art. He began by painting the walls of his own home with vibrant designs featuring animals and other figures, covering each facade from top to bottom. When he ran out of space on his own home, he moved onto the neighboring houses — they were, after all, abandoned. His painting continued unabated, and after a while, the town looked a lot a rainbow exploded, as seen in the example below (via Wikipedia).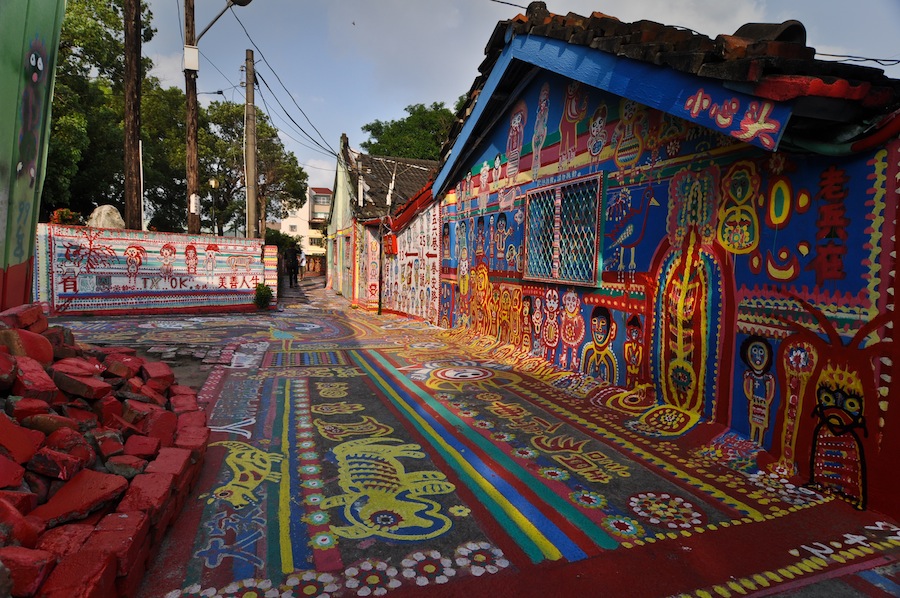 The incredible display of color and imagery attracted the attention of local university students, according to the Taipei Times, and those students "launched a campaign to save the village," seeing the cultural value of Huang's works. Tourists took note shortly thereafter, and in 2011, the local government decided to drop their efforts to condemn the area.
The "Rainbow Village," as it's now known, is being considered for protection as a cultural institution. Even if never gets there, though, Huang has taken it upon himself to keep it in great shape. Every morning, the now 90-something-year-old "Rainbow Grandpa" wakes up at 3 AM to paint some more walls and do some touch-up work — he wants to make his home look great for the thousands of visitors who come by.
If you want see more of Huang's work, the BBC put together a gallery, here.
Bonus fact: The Beatles song "Penny Lane" is named after a real street in Liverpool, England. The popularity of the song made the street itself popular as well, and visitors often tried to take a piece of the street with them. Specifically, tourists often purloined street signs — so Liverpool got rid of them. Instead, as seen here, Liverpool painted "signs" on the walls of buildings on the street. (The town has since developed signs which are harder to steal, so if you visit today, you may see more traditional-looking signage.)
From the Archives: China's Oil Painting Village: A town full of painters.