The Self-Aware Conference Call Line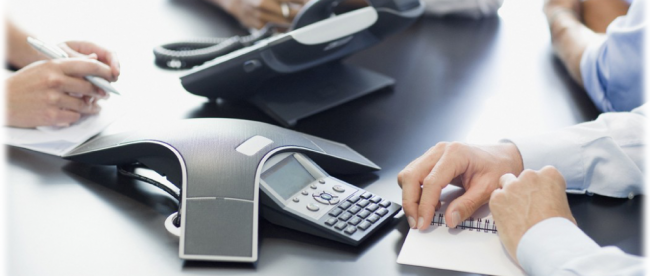 One of the worst features of the business world is the dreaded conference call. But don't let me explain why — let's leave that to the pros. In 2014, a comedic duo named Tripp and Tyler created a video titled "A Conference Call in Real Life," poking fun at how absurdly ineffective and frustrating they can be. The video, via that link or below, was a viral success, reaching just under 15 million views since its upload nearly three and a half years ago.
Take a few minutes and watch the video — it's worth it — and you'll see that it hit upon just about every conference line annoyance out there. People joining late; the person who puts himself on mute and forgets before going into some sort of soliloquy; the guy who accidentally drops off the call and doesn't realize it; the person with the dog barking in the background; and of course, that awkward pause that results when everyone tries to talk at the same time.
But there's one thing the video misses: awful hold music.
Conference call hold music is, typically, muzak-y trash. For those of us who are neurotic and arrive on time for such calls, that's a problem — not a huge or important problem, but one nonetheless. But for some, it's an opportunity. Specifically, there's UberConference, a company which provides conference call lines to businesses. For them, anything they can do to make the conference call experience less painful is a win.
In 2013, they had an idea: hold music that people would talk about. As UberConference explained on their blog, they couldn't find anything they liked for their service, so they decided to write a song themselves. Their co-founder and head of design, Alex Cornell, came up with a "friendly, country sound with a nice little rhythm," which you can listen to here. Once you begin to, you'll soon notice that the country sound and nice rhythm aren't the selling points — the lyrics are. Let's take a read:
Well I been sittin' here all day I been sitting in this waiting room
And I been I waiting on my friends, yes I
Waiting on this conference call, all alone
And I'm on hold
Yes, I'm on hold

I hope it's not all day
Well I wonder where they are yes I wonder where my friends have gone
Tell me where could they be while I'm waiting on this conference call
Well I'm holdin' on my phone yes I'm holdin' on the line (hey)
I don't know where they are I don't know why I'm still alone, mmm
I'm on hold
Oh yes I'm on hold

I hope it's not all day (hey)

(Well let me tell y'all a story about a man who was on hold all day, yes he was)
(Now, maybe he had the time wrong, and maybe he didn't, there's just no way for me to say)
(And yes, I have seen some long hold times in my day, yes I have, and this was one of the worst)
(Now this young man did not hang up the telephone, and you guess what happened, haha
Yeah, that call began, that call started)

So stay on hold
You gotta stay on hold
Don't go away
It's hold music — about being on hold.
The song became immediately popular in the business press. Fast Company proclaimed that we "finally" had "hold music that doesn't suck" while noting that the song is "a little bit cheesy, but people love it." A LinkedIn blogger declared that the song was "entertaining" (which seems like faint praise, but again, consider the context). The Wall Street Journal cited the hold music as a way to "[make] conference calls (a little) less awful."
But that all said? It's still probably not worth having to sit on a conference call.
To listen to the song — without having to wait on hold — click here.
Bonus fact: In George Orwell's novel 1984, the protagonist Winston Smith is brought into a torture chamber called Room 101, in an effort to break the will of those who do not comply with the state. The book is fiction but Room 101 is real — or, at least, its name comes from an actual place. Wikpedia explains: "Orwell named Room 101 after a conference room at [BBC headquarters] where he used to sit through tedious meetings."
From the Archives: The History of Being on Hold: The surprising story behind why we have hold music in the first place.
Also from the Archives:  Because it's one of my favorite facts, Pumping the Phone: Ever wonder how those free conference call companies make money, given that they're not charging you for the service? Here's how. (It's quite the scheme.)
Related: 1984.