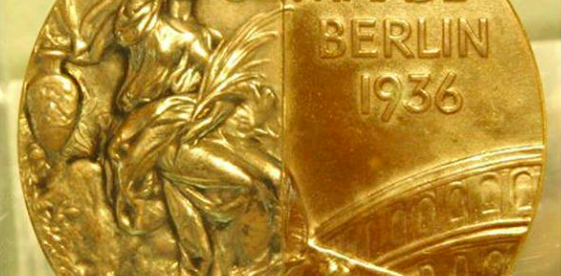 The Olympic Games are, at their best, a chance for the world to come together as one. Nations put aside their differences, even if only for a few weeks, and come together in healthy, peaceful competition. There are plenty of exceptions to this idealist outcome, though, and the 1936 Summer Olympics were an unfortunate example.
The 1936 Games took place in Berlin, Germany, under the gaze of the Nazis. The Games were the last before World War II and in some ways, a precursor to the horrors that were about to befall the world. Germany tried to bar Jews and blacks from the Games and only relented when threatened with boycotts from other nations. And despite any official ban, the world got the message. Germany de facto banned its Jews from participating in the Games (although some managed to compete nonetheless) and many other nations similarly left their Jewish stars home in order to not offend the host nation's leadership. Friendship and mutual understanding were not themes in these Games.
Two Japanese athletes, though, bucked this trend.
Japan, as a nation, took home a total of 18 medals from the 1936 Games — six gold, four silver, and eight bronze. All eighteen were earned in either Swimming or Athletics (what is now known as "Track and Field"). Two Japanese athletes took home silver and bronze in the men's pole vault; officially, Shuhei Nishida took silver and Sueo Ōe won bronze. But unofficially, they ended up with something unique: the medal seen below.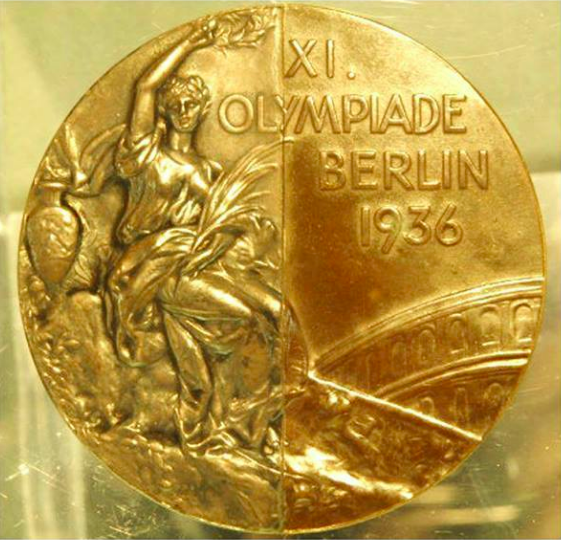 That medal is half-silver, half-bronze. And it has a sibling, also half-silver, half-bronze, just reversed.
American Earle Meadows took gold in the pole vault; he was the only competitor to clear the bar at 4.35 meters (which, at the time, set an Olympic record). Three other competitors — Nishida, Ōe, and American Bill Sefton — cleared 4.25 meters but failed on the higher attempt. Instead of a three-way tie for silver, the three of them had a jump-off, starting at 4.15 meters. Sefton, per the Associated Press, "tried and failed to negotiate" that height, while "both the Japanese cleared that height easily." Nishida and Ōe should have kept going, with one prevailing and taking silver, but, as the AP continued, they "elected to compete no further." The two friends wanted to share second place.
The organizing committee didn't accept this, though — they wanted one silver, one bronze. Nishida and Ōe weren't interested in a high-stakes showdown versus one another, so the Japanese team leaders chose for them: absent a jump, Nishida would take second and Ōe third. It's unclear how they came to that decision — some sources say Nishida was given a higher placement because he was older, while others attribute it to the fact that Ōe needed two jumps to clear 4.25 while Nishida needed only one. Either way, the pair accepted the decision, and Nishida and Ōe took the medal stand as the silver and bronze place finishers, respectively.
They weren't done — their friendship continued to outshine either of the medals. As Sports-Reference explained, "back in Japan, Nishida and Ōe took their medals, cut them apart, and combined them into a half-silver, half-bronze medal, the only two of their type ever created."
Ōe died a few years later, a casualty of World War II. Nishida died in 1989, remaining a life-long ambassador for the sport and for good sportsmanship. As for the medals, you can see one today if you'd like. As the Independent summarized, "Ōe's medal remains in private hands but Nishida's is kept by Waseda university. In each case, the peculiar half-and-half medals serve as permanent reminders that, even in the hate-filled atmosphere of Hitler's Germany, the Olympic Games allowed young people to display something more lasting, and ultimately more thrilling, than mere athletic excellence."
Bonus fact: Fourth-place finisher Bill Sefton never competed in another Olympics, and therefore never earned an Olympic medal. But over his career, he did end up twice setting the world record on the pole vault — and could have gone higher, perhaps. In May 1937, Sefton, a student at the University of Southern California, competed in a conference athletics meet. He and teammate Meadows tied, both clearing heights of 14′ 11″ (4.54 m). That was a new world record, and both competitors wanted to try to top 15 feet — but they weren't given the opportunity. As Sports-Reference notes, "there was no chance for them to attempt to become the first 15-foot vaulters that day, however, as the uprights could not be raised any higher."
From the Archives: The Man Who Inched Away at History: How to manipulate the world pole vaulting record.