The Weekender, May 15, 2020
Hi!
I don't have a ton to share today, but I wanted to make sure I publicly shared two groups of people who have helped Now I Know go forward over the last few weeks. Like just about everything else, Now I Know has become financially a bit tricky during the coronavirus pandemic. It's still a solid project from that perspective — I can pay the bills, no worries! — so I don't want you to think this is a call for help. That said, the initial impact of the pandemic and downturn hit this, too, most notably in the lack of newsletter sponsorships. Today's Weekender is the first sponsored newsletter in well over a month, and in months past, I've averaged about one or two per week. I expect that dearth to continue. I also expect book sales to drop, which is annoying because my most recent book has only been out for a few months.
However, a lot of that been accounted for in two main ways. First, my Patreon campaign has, surprisingly, slightly grown. In May of 2019, 535 of you supported Now I Know via Patreon. Today, that number is at 564. The fact that the number hasn't dropped is surprising. That it's grown a good amount is unbelievable. Thank you for your support. (For those who haven't supported the project this way, please do not feel obligated whatsoever to do so.)
Second, Mailchimp, the service I use to actually email all of this out, is one of my two biggest single costs in running this (my time and effort notwithstanding, of course!). They've kindly offered small businesses and side projects like this a free ride for a few months. And as you'll see below, Now I Know was fortunate enough to be given one of these grants.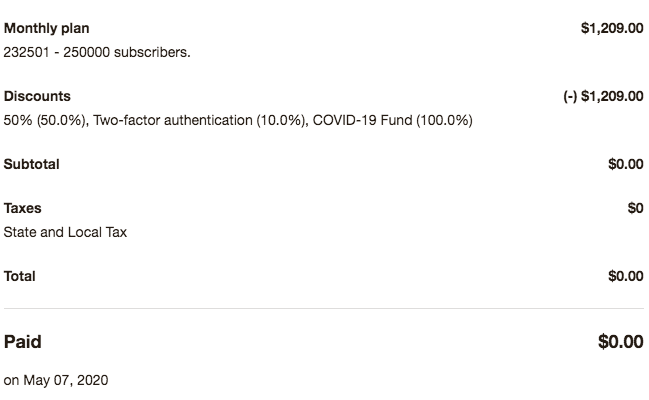 The subscriber count isn't accurate — because I send daily, I'm bumped up to a significantly more expensive plan, but Mailchimp has worked with me over the years on a number of discounts to keep it manageable. But still, the COVID-19 Fund was a nice help, accounting for about three advertisers/month. So, thanks as well to that great team — they've been an excellent partner for the nearly ten years I've been writing this thing.
And most importantly, thank you to all of you for reading. Now I Know is, first and foremost, a creative outlet for me — a chance to share all the fun stuff I learn with as many people as possible. You taking the time each day to let me do that is what truly keeps Now I Know going.
The Now I Know Week in Review
Monday: The Sandwich You Don't Want to Eat: But it will help you drink!

Tuesday: The Speed Trap That Trapped Itself: There's also a town (or, was a town) called New Rome in Ohio that met an even crazier fate for similiar reasons. I mention it in one of my books.

Wednesday: Pudding One Over: The scheme I wish I came up with.

Thursday: Music in the Key of K: The ultimate Blue Light Special?
And some other things you should check out:
Some long reads for the weekend.
1) "A Casino Card Shark's First Time Getting Caught" (Narratively, 13 minutes, May 2019). This is one of my favorite topics ever — I'm a sucker for the "how to cheat the casino" stories. Ocean's 11 is one of my favorite movies (and I really like Ocean's 13 too, but don't get me started about Ocean's 12). I regularly recommend the book "Bringing Down the House" to whoever will listen. (The movie adaptation isn't nearly as good, though.)
2) "Wet 'n Wild" (Topic, 16 minutes, April 2019). The title doesn't tell you anything about this, but it's about bottled water. The subhead is a lot better: "Natural springs are abundant in Maine, and everyone wants a piece of the action: from upstart purveyors of raw water to corporations like Nestlé. But is all water created equal? It depends on who you believe."
3) "How To Build a Professional Livestreaming Setup at Home For $500 — $2,000" (Medium, 6 minutes, May 2020). I'm not sharing this because I'm suggesting you make this kind of investment, and I'm also not sharing it because I happen to know the person who wrote it. He runs an events company and, of course, had to switch to virtual events. And he realized that the audio and video quality from his home laptop wasn't good. How do you turn your basement into a tiny TV studio? It's an interesting question, and his solution shows how much detail goes into finding a solution.
Have a great weekend!
Dan