The Snowball Fight that Mother Nature Won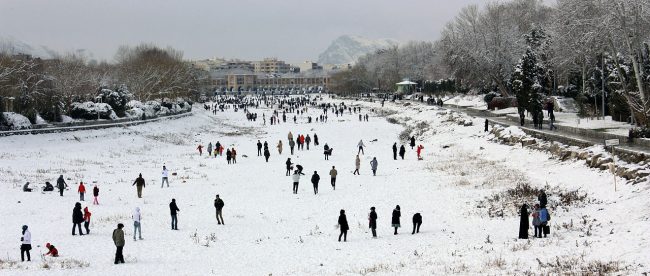 If you're in the United States and a fan of roller coasters, you're probably familiar with Six Flags. Since its founding in 1956, the company has operated amusement parks of all sorts of types around the continent. As of this writing, there are a total of twenty Six Flags in the United States, Canada, and Mexico, including one in Atlanta, Georgia.
That park, called Six Flags Over Georgia, features lots of thrill rides like Acrophobia, a coaster with the 200′ drop; kiddie rides named for Bugs Bunny, Daffy Duck, and friends; and a seasonal water park with water slides, a wave pool, and more. The park also hosts a number of special events throughout the year, ranging from concerts and fireworks to charity races and even cheerleading competitions. The goal is always the same — bring paying customers into the park.
Which is why, on December 16, 2017, management tried to hold a snowball fight.
The idea: The first 1,000 people to show up — paid admission in hand — would be invited inside at 1 PM, an hour before the park officially opened. At 1:30, those guests would be outfitted with snowballs of a sort. Being Georgia, you're not likely to get a lot of real snow, as the state's average lows in December are about 40 °F (5 °C). Actual snow is rare, to say the least. So they had to fake it, using something synthetic.
Or, so they thought. A few days before the event, the metro Atlanta area was blanketed with about two to four inches of real snow.
But if you thought that was a good thing for the Six Flags snowball fight, you'd be wrong.
In parts of the country, that'd be no big deal — maybe schools would open an hour or two later, but by and large, life would go on. Atlanta, though, having not seen a lot of snow, isn't prepared for anything more than a light dusting. Schools closed, Delta canceled nearly 400 flights, and ultimately, county police insisted that residents stay off the roads entirely. And that meant Six Flags Over Georgia had to close as well.
The 1,000-person snowball fight, the Atlanta Journal-Constitution reported, was canceled, on account of snow.
Bonus fact: Texas was under French control from 1684 through 1689, then under Spanish control until 1821, and flipped Mexican control after the Mexican War for Independence. In 1836, it won its independence from Mexico, becoming the Republic of Texas. Nine years later, Texas joined the United States, where it is today, except that it attempted to secede in 1861 and joined the Confederacy. What's that have to do with the above? Six Flags was founded in Texas; the name "Six Flags" is a reference to the six different national flags that have flown over the state.
From the Archives: Tropical Parad-ice: Turks and Caicos is a nation of tropical islands. So why was there an igloo on its flag?