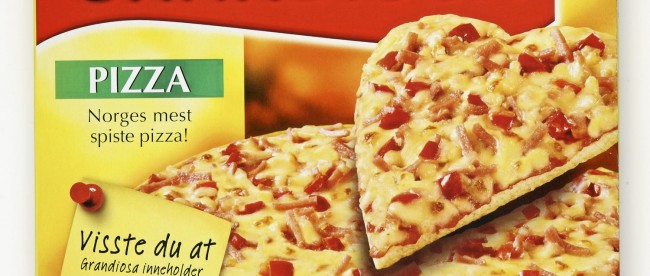 You're probably at least vaguely familiar with the U2 song "One," but if not, take a moment and listen to this live version from the 2006 Grammys, featuring Mary J. Blige, here. The song was very popular when it came out  in 1992 — it peaked at #10 on the Billboard top 100 and made many other top songs lists throughout the world. The 2006 re-release of the song (with Mary J. Blige) didn't do quite as well, except in Austria and Norway, where it topped both charts.
Oh, and in Norway? It also beat pizza.
And apparently, that's a big, big deal.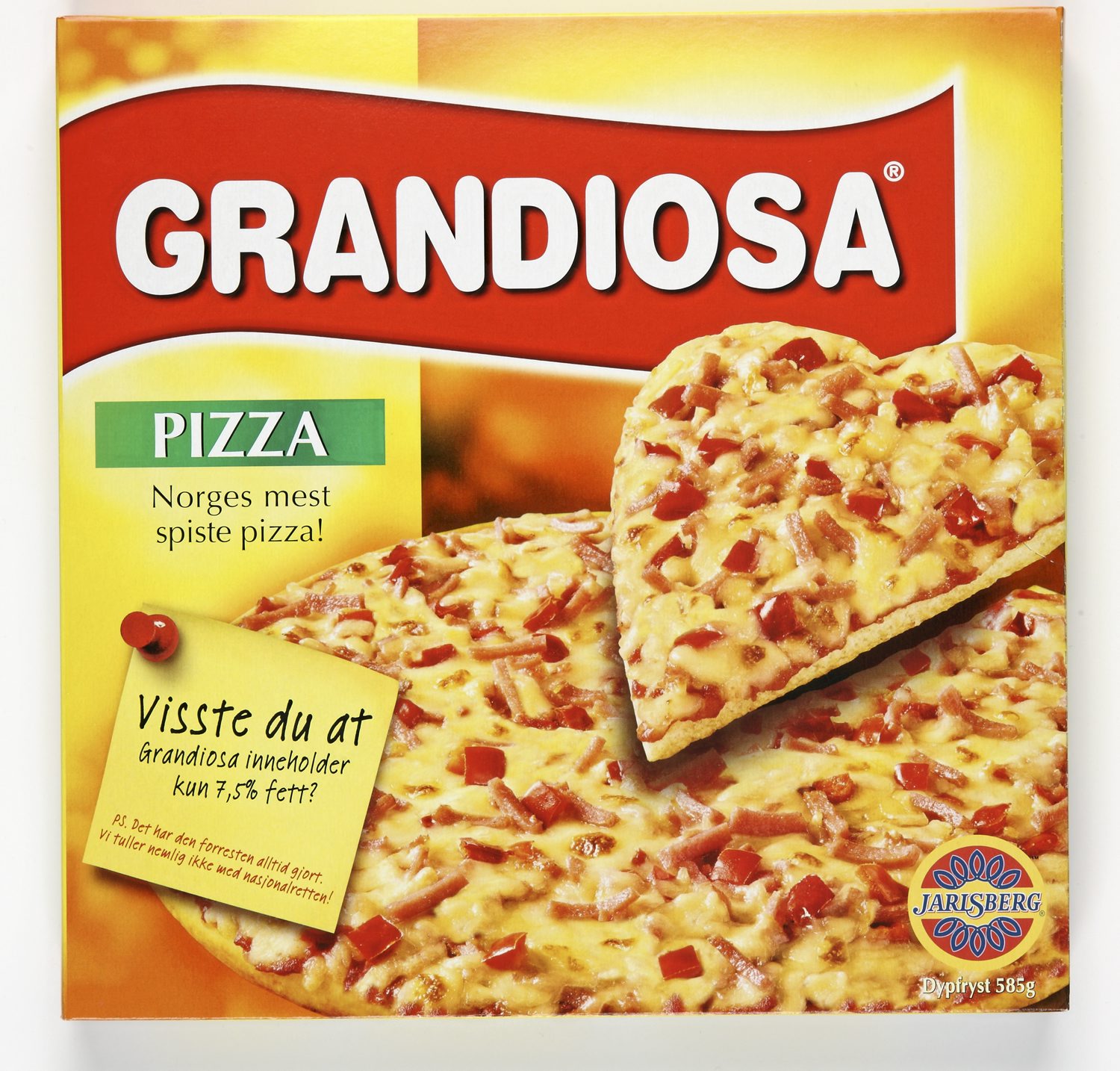 If you're Norwegian, you are almost certainly already familiar with the item above. It's pizza — frozen pizza, designed to be reheated in the oven for a quick-ish meal. And it's incredibly popular. According to Wikipedia, "twenty-four million units of Grandiosa are produced each year for the 4.67 million citizens of Norway" — that's about five pizzas per person per year.
But that doesn't properly describe how popular Grandiosa is. To fully comprehend the power of the pie, you should watch this video, titled "Respekt for Grandiosa," which translates into "Respect for Grandiosa." It's an advertisement for Grandiosa's "Lørdagspizza" variety — meatballs, onions, red peppers, and a sour cream dipping sauce. But the recipe of the pizza isn't the important part. The ad's jingle is. The lyrics speak of a "binary addiction" and "true love" for the pizza and the tune is catchy. It's so catchy that, when the song debuted in June of 2006, it did at the top of VG-lista, Norway's authoritative Top 20 Singles chart. And the jingle sat at the top of the list for eight weeks — until U2 and Mary J. Blige finally knocked it down to #5.
Yes, for eight glorious weeks in the summer of 2006, the top performing song in Norway was a pizza jingle.
Grandiosa knew they had a winner on their hands — it's not every day a song designed to market pizza emerges as a #1 hit. Fast forward a year, and once again there's a new version of Grandiosa available in stores: the "Full Pakke," featuring meatballs, pepperoni, ham, and (once again) a dip. And once again, there's a theme song to go with it — this time, with a dance routine, as seen here. And it, too, made it to #1 on VG-list (although for only two weeks).
The success of both songs didn't bring us a third one, though; for reasons unclear, Stabburet (the company which owns the Grandiosa brand) quit producing songs after its illustrious two-hit run.


Bonus fact: If you think the idea of singing about frozen pizza is crazy, don't worry — the feeling is mutual. Well, it is if you're in Texas. Some Norwegians, it seems, do not hold the Lonestar State in very high regards. According to the Austin Statesman, "Texas" is slang in some Norweigan circles for the word "crazy." It's not a very recent change, either; according to some unsourced Twitter comments, it dates back to the mid-to-late 1970s.
From the Archives: Pizza Farms: A smart idea if I've ever seen one.
Related: "Pizza: A Global History" by Carol Helstosky.