The Wartime Chocolate Bar You Don't Want to Eat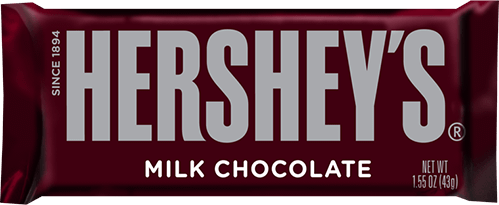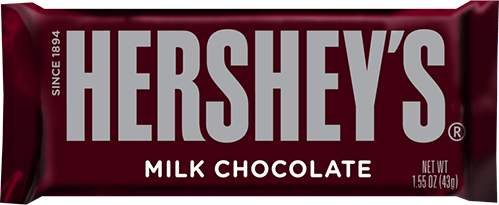 A typical Hershey's chocolate bar, pictured above, is 210 calories — and mostly empty ones at that. Hershey bars are a treat, no doubt about it, and few people if any would think otherwise. And if you were an American soldier during World War II, finding a chocolate bar in your rations would probably be cause for a minor celebration — a bit of tastebuds-driven escapism from the theater of war. Until you tried to bite into it, at least. Then you realized that war could even make chocolate taste terrible.
In 1937, a colonel in the Quartermaster's Corp named Paul Logan approached the Hershey Corporation with a strange request — a specially-formulated chocolate bar for the troops. But beyond the brand and the "chocolate" moniker, Logan's request and the tasty confection pictured above had very little in common. Logan wanted four-ounce (112 g) bars that had 600 calories and, most importantly, could withstand very high temperatures — 120 degrees Fahrenheit (nearly 49 degrees Celsius) or more. The reason: as a Quartermaster, it was his unit's job to find appropriate food and sustenance for troops, and he needed something that could serve as an emergency ration. A soldier carrying three of Colonel Logan's chocolate bars, called "D Rations," would have an easy way to get the suggested 1,800 calories even in emergency situations.
Oh, and there was one other requirement: Logan, per History.com, insisted that the bar had to taste "a little better than a boiled potato."
Logan feared that if the chocolate bar tasted too good, soldiers would eat it as a treat and therefore not have it available when truly needed. So he instructed Hershey's to do something they'd probably never have done otherwise: make a candy bar that no one wanted to taste. Hershey obliged. The bars were made from chocolate and sugar, but also cocoa fat instead of cocoa powder, skim milk powder instead of the milk fat used in the commercial product, and oat flour. The product was so resilient to high temperatures that Hershey couldn't get it to liquefy enough to get it into the standard chocolate bar molds; instead, the sludgy chocolate goop had to be kneaded into specially-made ones. It was difficult to bite into and tasted terrible, and also had a not-so-good effect on one's digestive system. Soldiers had no interest in eating the chocolate bars and made their feelings well known — they began calling the D Rations "Hitler's Secret Weapon."
As the war progressed, the awfulness of the chocolate bars became increasingly well-known. In 1943, the Army went back to Hershey to try and improve the taste, and the company delivered. They came up with what would be called the Tropical Bar, so named because it was primarily for use by troops serving in the Pacific. As seen below, it looked more like a real candy bar than a military ration.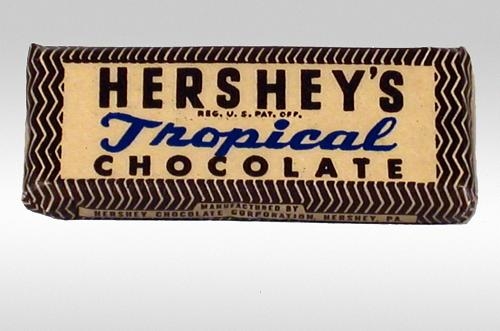 The chocolate bars still didn't taste all that good — but the wrapper didn't make that obvious anymore. As a result, soldiers who knew that the chocolate wasn't worth the calories had a new way of getting rid of it — they could trade it to unsuspecting others, as Mental Floss notes. And, for a small set of troops, the new bar had one other advantage over the first D Ration — per Wikipedia, the Tropical bar "was the only ration those ill with dysentery could tolerate." Not the best selling point, but whatever works.
Hershey's continued to provide the Tropical bar to the Army for the Korea and Vietnam wars and discontinued it shortly thereafter.
Bonus Fact: The Hershey Company was founded by a man named Milton Hershey in 1894. He and his wife Catherine set up a fund — the Milton Hershey School Trust — which operates the Milton Hershey School in Hershey, Pennsylvania. The K-12 school aims to help underprivileged children, and money is no object — the Trust is still the controlling shareholder of the Hershey Company, owning about 30% of the chocolatier. According to Wikipedia, "the school is the nation's biggest and wealthiest boarding school for needy children, with $7.5 billion in assets for 1,900 students."
From the Archives: The Nazis' Chocolate Bomb: The queen almost did not see it coming.
Take the Quiz: Hershey's makes a lot of candy. So does Mars, Inc. But do you know which company makes which treat?
Related: "MREs (Meals Ready-to-Eat) Genuine U.S. Military Surplus (1 Pack) Assorted Flavor." The image shows a picture of "Meal 22: Asian Beef Strips," but your experience may vary. 4.5 stars on over 200 reviews, will run you about $11.50.