There's No Such Thing as a Free T-Shirt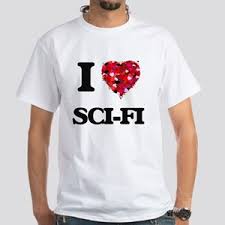 Okay, wait: there is, definitely, such a thing as a free t-shirt. (The title, in case you didn't get it, is a riff on this.) And getting a free t-shirt is a pretty wonderful experience. Despite the fact that the shirt is often not your size, may have the name or logo of a company you don't particularly care for, and probably cost only about $5 in the first place, receiving one feels, somehow, special. We learn, through life, that nothing is truly free; maybe getting a free t-shirt is us overcoming that truth and beating the system?
Anyway, it's a good feeling. And if you were watching the Sci Fi Channel in Racine, Wisconsin in October of 1992, congratulations: you may have felt the glee of the winning of a free t-shirt.
But then you found out the truth.
The Sci Fi channel — rebranded as "Syfy" in 2009 — debuted as a network on September 24th of that year. It promised a mix of science fiction and fantasy, focusing on re-run content but with an eye toward original programming in the future. They were starting out geeky — a lot of cult classics — but had hoped to reach a broader audience over time. The first program it aired, to give an idea as to the tone they were going for, was Star Wars, which has an appeal well beyond the die-hard sci-fi fan universe.
But like most new cable networks, the Sci Fi channel wasn't immediately available to everyone upon its launch. It took many cable providers a while to add the network to their offerings, and that was certainly true if you were a customer of TeleCable in Racine. Homes subscribed to Racine TeleCable wouldn't receive the program for months. But there was a notable exception. In October 1992, a handful of homes received a free preview of the channel — with a bonus. To celebrate the apparent launch of this new channel, Racine TelecCable offered viewers free Sci-Fi channel t-shirts. All the person at home had to do was call a toll-free number and leave his or her name and address to claim the prize.
The homes which received this free preview, well, that's where the trick comes in. These homes weren't selected at random, and it wasn't clear to those viewers that the preview was limited to just them. The Journal Times, a local newspaper, explained why: "[The channel] was presented on a channel with a deliberately scrambled signal. The only viewers who could receive the programming were those using illegal signal decoding equipment." If you were a legitimate, paying customer, you'd receive static; only those with bootleg technology were able to watch the channel and learn about the free t-shirt offer. And when those viewers called for their free t-shirt, they unintentionally outed themselves as cable stealers.
At least six people took the bait, according to the Journal Times, and Racine TeleCable was able to cut off all service to their homes or otherwise block the signal. And no, they didn't receive their t-shirts, because the t-shirts were never real.
The company considered the ruse was a success — and it earned at least one copycat. A few months later, a Connecticut cable provider replicated the trick, broadcasting a fake t-shirt offer during a boxing match and nabbing approximately 140 cheaters in the process. Those customers were sent a bill for the content they purloined and a warning: pay up or we'll contact the authorities.
Bonus fact: In general, when you buy a t-shirt with a logo on it, the owner of the logo — that is, whoever owns the rights to the intellectual property — gets a licensing fee for the use or royalty from each sale. There's one notable exception: t-shirts with the NASA logo on it. And it's not just limited to t-shirts. NASA, being a government agency, doesn't charge a licensing fee, per Racked. The space agency still has to grant permission to use the logo, though, and if you try to market a product with an unauthorized use, you may end up getting a nastygram from NASA's lawyers.
From the Archives: How Much is a Boz Worth?: How a hated football player cashed in on his infamy — with t-shirts.