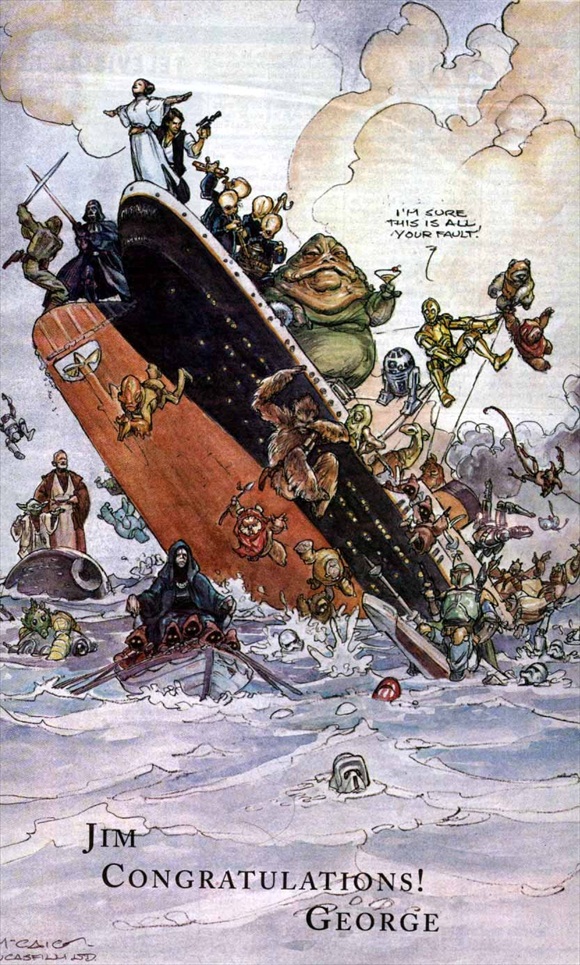 In 1997, Titanic made its box office debut — and set a then-record lifetime gross domestic take of over $650 million per Box Office Mojo.So it made sense, kind of, to re-release it fifteen years later, of course in 3-D. (Kind of, because the re-released movie only opened at number three in the box office, a minor embarrassment.) By and large, the movie was left unchanged, other than the 3-D enhancements.
The only thing redone? The sky.
Director James Cameron was, first and foremost, an explorer/adventurer. He would later admit (as noted briefly in this TED talk) that his primary goal in making the movie was to get Hollywood to pay for him to visit the Titanic wreckage, under the guise of research: he wanted to make the movie as accurate as possible. And in the end, that attention to detail became a motivator of its own. Cameron told Eye for Film that his efforts to make the movie as close to real as possible consumed him: "I read everything I could. I created an extremely detailed timeline of the ship's few days and a very detailed timeline of the last night of its life. And I worked within that to write the script, and I got some historical experts to analyse what I'd written and comment on it, and I adjusted it." Some early reviews of the films lauded Cameron's attention to detail.
But Cameron got one detail wrong. Astrophysicist Neil deGrasse Tyson, the director of the Hayden Planetarium at the American Museum of Natural History in New York, noticed that in the scene when the ship sank, the night sky showed a star pattern much different than what was really there on that night. And, as he recounted in this video, it rubbed him the wrong way. If diving to the bottom of the ocean was Cameron's all-consuming goal, getting Cameron to acknowledge this error became Tyson's. He wrote Cameron a letter which went unanswered, met him at an event to no avail, and pestered him a third time at a dinner both were invited to.
And somewhere along the way, Cameron decided to do something about it. Accounts vary, though. Tyson, in the video, states that someone who works in post-production at Cameron's studio called him up to tell him about an anniversary re-release and that "he [Cameron] tells me you have a sky he can use" (and then, in the video, Tyson does a happy dance). Cameron, for his part, claims that he himself said "all right, send me the right stars for that exact time and I'll put it in the movie."
Either way, the sky in the newer version of Titanic is, now, accurate.
Bonus fact: Before Titanic hit the silver screen, the top grossing film (again, domestic receipts) was Star Wars, which came out twenty years earlier. To mark the feat, Star Wars' director George Lucas took out a full page ad in Variety, seen above (larger version here), congratulating Cameron on the achievement.
From the Archives: Blast in the Past: A scene from the night sky (telescope required) which no longer exists.  
Related: All of Neil deGrasse Tyson's books.