When it comes to communicating ideas, language is an imperfect tool, but it's the best we've got. When it comes to putting together laws, rules, guidelines, and the like, that's also the case. Despite our best efforts, there are almost always going to be cases that we meant to prohibit that, based on the language we used, are actually allowed. Similarly, there will usually be cases that we meant to allow that we accidentally prohibit. To counter this, many rules and laws and the like are extraordinarily long, all in an attempt to close loopholes while simultaneously reopening access to acceptable behavior. That, however, comes at a cost — the longer the rule, the harder it is for regular people to know if they're in compliance. So some places just try to keep it simple. And that's how this happened.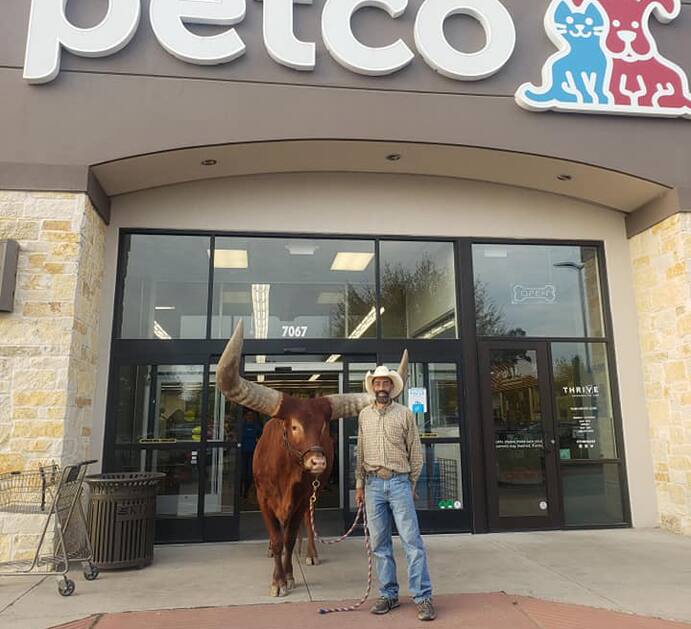 That's Vincent Browning, wearing the hat. Next to him is Oliver, an Ankole-Watusi (or more commonly, "African Watusi") steer weighing in at about 1,600 pounds (~730 kg). And behind them is a Petco.
Petco, for those unfamiliar with the brand, is a chain of pet stores in the United States. The stores are huge, with all sorts of stuff for all sorts of pets; most locations also have dog training classes and a dog grooming salon. And more importantly for our purposes, the stores have a pretty clear policy: Pets Allowed. Okay, it goes a little further than that; as PetCoach notes, Petco's pre-coronavirus policy allowed for "any domesticated, licensed, vaccinated companion animals [ . . . ] to accompany you to your visit to Petco. All visiting pets are required to be appropriately restrained (leash, carrier, travel habitat)." Animals acting dangerously may be escorted out, of course, but in theory, if you had a domesticated Tyrannosaurus Rex that had its shots, the rules said it was OK to bring her in, so long as she was leashed.
In March of 2019, Browning — he's Oliver's trainer — and Oliver's owner, Shelly Lumpkin, decided to put the policy to the test. As he posted on Facebook, "We decided to take a chance and call Petco's bluff on the 'ALL LEASHED PETS ARE WELCOME' policy." The trio went to the Petco in Humble, Texas, as seen above, and to his surprise and delight, Petco honored the policy. Here are two more pictures from the visit, but if you click that Facebook link, there are more, plus a video.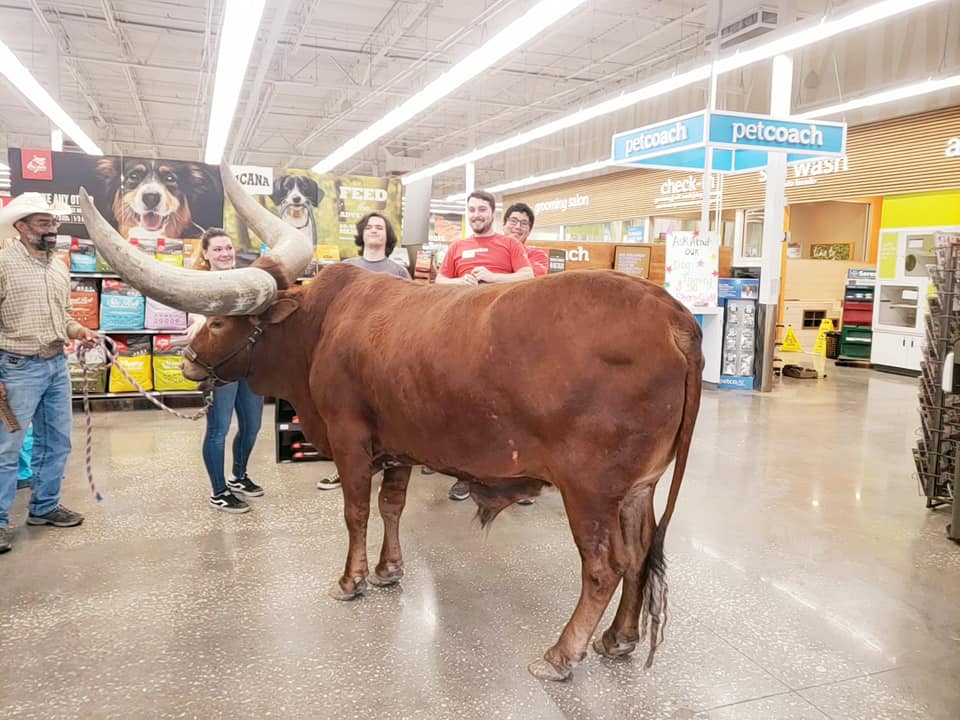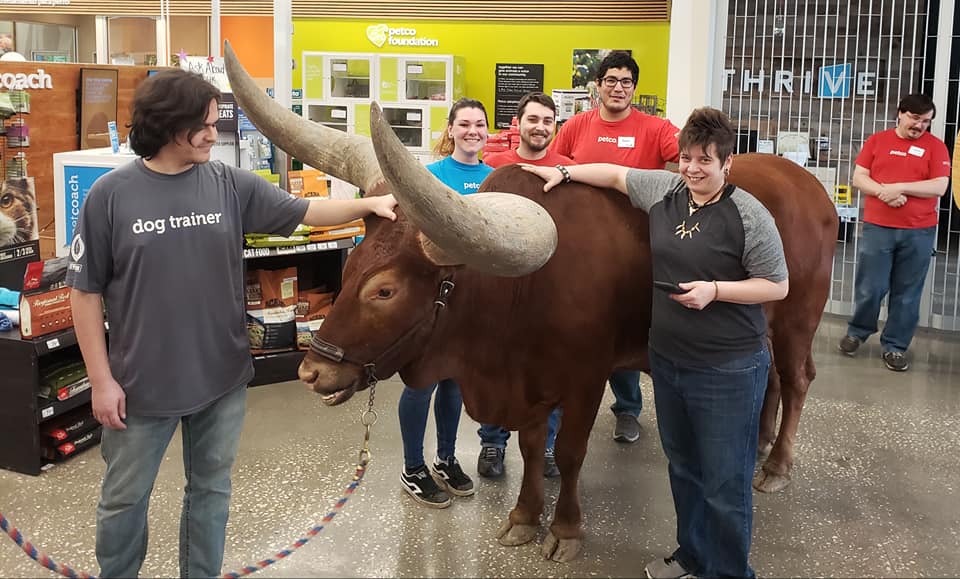 Petco, to its credit, didn't disavow the decision by its Houston-area franchise. Rather, its corporate offices decided to use the opportunity to re-emphasize their policy. In reaction to Oliver's visit, Petco posted to Facebook that "we mean it when we say ALL leashed pets are welcome in our stores." (And don't try the same thing at Petco competitor PetSmart; per their policy, only an enumerated list of pets are allowed, and cows aren't included therein.)
Bonus fact: Petco owns the naming rights to the baseball stadium that is home to the San Diego Padres, and as a result, the Padres play at "Petco Park." The organization People for the Ethical Treatment of Animals (better known as PETA) isn't a fan of Petco and tried to use Petco Park's opening as an opportunity for protest. To celebrate the new ballpark, the Padres sold 8″ by 8″ commemorative, engraved bricks, lining the entrance to the stadium. PETA tried to buy one demanding that fans boycott Petco, but that message was repeatedly rejected. So, as ESPN reported, PETA got creative; they successfully purchased a brick that read "Break Open Your Cold Ones! Toast The Padres! Enjoy This Championship Organization!" (Check out the first letter of each word.)
From the Archives: How Cows Mooved Through Manhattan: More cows where you wouldn't expect them.