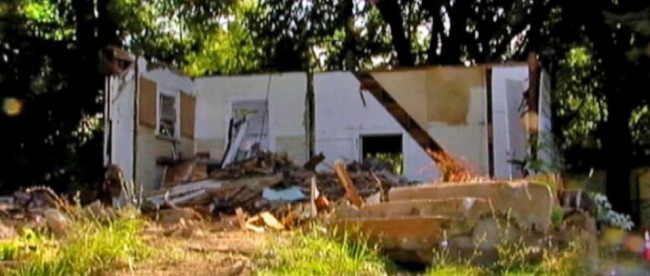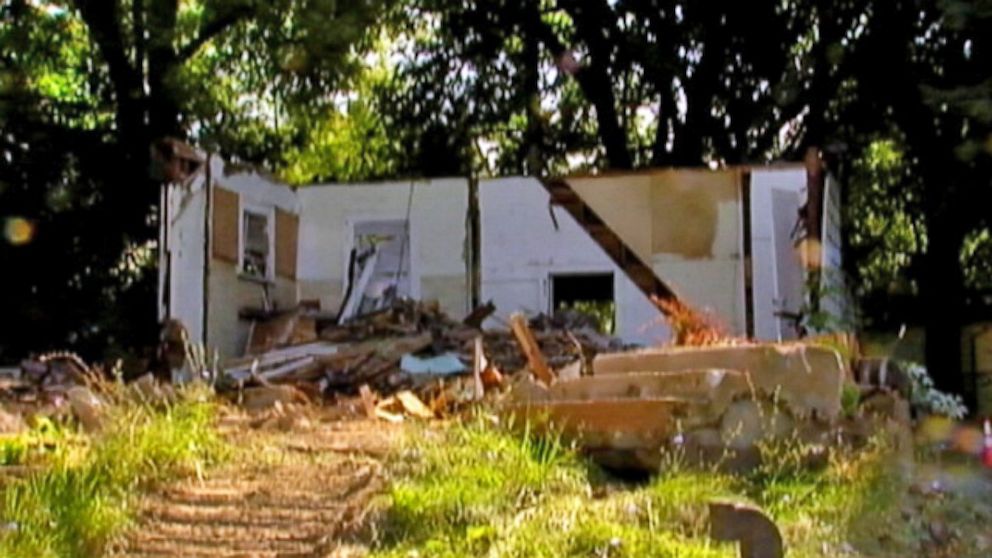 If you were in Pontiac, Michigan in early fall 2013, you could have seen the demolition of 398 Edison Street, pictured above (kind of) in action. Like many homes in the Detroit area, 398 Edison was abandoned and, to combat blight, scheduled for demolition. It was to be taken down on September 5, 2013, but its owner, a man named Max Garza, wanted to save the house, despite the fact that the home was in disrepair and very much neglected. So Garza allegedly came up with a really good plan: He'd hide his home from the wrecking ball by changing the house number. A trip to the hardware store and his home, 398 Edison, became 390 Edison.
That plan has an obvious flaw, though — the demolition crew would show up, ready to take down a 398 Edison, only to find that the building didn't exist. Most likely, they'd assume someone had made a typographical error and call for help. Someone from the relevant government offices would realize that 390 Edison didn't exist or, in the very least, that 390 Edison was the house they were after. So Garza, again allegedly, had another trick up his sleeve: he renumbered his neighbor's house.
As it turned out, 404 Edison Street was also unoccupied — it's owner, Mike Anderson was hoping to rent it out that October, according to a local news report, despite the fact that it, too, was in poor condition. But given that it was empty, it made for the perfect cover for Garza's apparent plan, because by the time the demolition crew arrived, 404 Edison was re-numbered 398 Edison (allegedy by Garza, of course). The demo team did their job swiftly, knocking "398 Edison" down, sparing the real 398 Edison in the process. The plan seemed to work: the image above is of 404 Edison, falsely renumbered as 398. The wrong house was left in ruins.
Anderson, of course, was less than happy, and wondered if the town owed him a new house. But his neighbors were pleased by the mistake. One such neighbor, unidentified by the press, told the local news that there were "broken windows, doors, squatters living in [the wrongly demolished house]" and that the owner was never there — she had never seen anyone at the house except for a few "bums." Another neighbor, Fred Sargent, echoed the sentiment: "When I heard they tore down the house on accident I wanted to go down there and give them guys a twelve-pack of beer," he happily noted while explaining that "if anyone was going to rent that out it had to be a crackhead." In fact, Sargent suggested that Anderson's house wasn't worth anything: "I wouldn't have gave him a twelve-pack of empties."
It's unclear what compensation Anderson received, but he didn't just take over Garza's to-be-destroyed house. Which is good, because it wasn't long for Pontiac. Once authorities realized that they had mistakenly destroyed the wrong house, they returned to Edison Street and tore down Garza's house, too.
Bonus Fact: "404" is the HTTP code for "Not Found," or the error message you get when you go to a website and the article isn't there. Most websites typically serve up generic messages saying that something went wrong (here's an example) while others, such as Major League Baseball's website, have more fun with it. (You should refresh the MLB one a few times after visiting.) But one organization has found a way to use 404 pages in a more serious, and hopefully, more effective way. A group of European organizations created the Notfound Project, which asks website owners to repurpose their 404 pages and instead show information about a missing child in the EU. As the BBC explained, "once sites have signed up and added the code supplied by the NotFound project, every time the page is displayed it will contain information about a missing child."
From the Archives: Building, Apart: The home that wasn't bulldozed — even when literally everything around it was.
Take the Quiz!: Click the letters of the alphabet backward, in order, alternating with the numbers 1 to 26, forwards, in order.
Related: "Detroit: An American Autopsy Paperback" by Charlie LeDuff. Publishers Weekly called it an "an edgy portrait of the decline, destruction, and possible redemption of [the author's] hometown." 4.5 stars on more than 900 reviews.