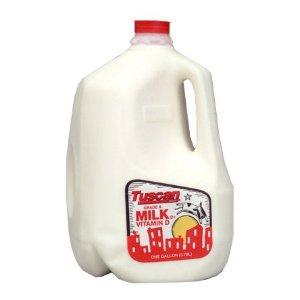 You can buy nearly everything online, more often than not on Amazon.com.  It may surprise you that this includes milk.
Yes, milk.  The same product which, if you buy it in the supermarket, won't last in your trunk if you run too many errands afterward.  The same product whose packaging is specifically designed to be opaque, hiding the liquid inside from view, as to shield the product from sunlight which will would otherwise rob it of the vitamin goodness.  Yet, you can buy it on Amazon, even with three or four day shipping. One gallon of Tuscan brand whole milk, at the time of this writing, is available for the low, low price of $160.  New or used.
This rather strange offering probably has not gotten a lot of purchases, but it has attracted a large — nay, huge number of Amazon reviews, almost all of which are, of course, jokes.  Most are snarky and sarcastic, some are just plain weird.  Some favorites:
I highly recommend this product. After years of failure putting cows through my Juiceman, Tuscan Whole Milk has come out with a product that not only looks like milk, but actually is milk. I have no idea how they've done it, but surely there is a patent on their brilliant process. The best I could ever hope to get was a pulpy red mess with chips of bone and some fur.
* * *
Horrible service, I bought my milk and went with the 7-9 day super saver shipping method and it arrived warm and curdled. What the hell?
* * *
I bought this milk a few days ago; it arrived today, and when I opened it, it was a literal explosion of rainbows and kittens. No cows could have made this milk. No, I suspect unicorns.
* * *
Has anyone else tried pouring this stuff over dry cereal? A-W-E-S-O-M-E!
You can read all the reviews here, but as one reviewer notes, do not do so while drinking the product, as the combination may cause milk to shoot out your nose.
Bonus fact: In Amazon's early days, every time they sold a book, a bell would ring at each office computer.  As founder and CEO Jeff Bezos recounted, "[t]hat worked pretty well for the first few days" — before it became overwhelming for the office.
From the Archives: No Starbucks: A good place to get milk, if you can find it.
Related: One gallon of Tuscan brand whole milk, obviously!