Naked at Harvard and Yale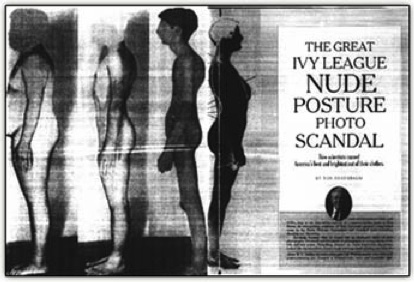 The following people are — or, perhaps more correctly, were — members of an elite and unique club: President George H.W. Bush, Secretary of State Hillary Rodham Clinton, journalists Bob Woodward and Diane Sawyer, actress Meryl Streep, and television executive Brandon Tartikoff. Yes, each was (or is) a titan in his or her field. And each one is probably a household name, or close to it. But they have one other thing in common.
Most likely, each of the above once posed nude.
Starting in the 1940s, a group of upper-echelon colleges and universities in the northeast United States ran a program originally aimed to study the human posture. These schools — Harvard, Mount Holyoke, Princeton, Radcliffe (before it became part of Harvard), Smith, Swarthmore, Vassar, Wellesley, and Yale — were all members of the Ivy League, the Seven Sisters,or other groups of well-regarded institutions of higher learning. A researcher named William H. Sheldon convinced these schools to compel incoming freshman into posing nude for his photographer, under the pretense of studying things like scoliosis and rickets. But in reality, Sheldon was studying something else, a theory he called "constitutional psychology," or the correlation between a person's body shape and their intelligence.
Body types, Sheldon believe, could show more than just a person's physical traits. He developed three categories of body types, which he coined "somatotypes," each of which he believed had different, distinct psychological traits including differences in intelligence. While the basis for this theory was not entirely ahistoric — philosophers dating back to ancient Greece (notably Plato) had noted a fundamental difference in body types — the association with intelligence was more junk than science; as the New York Times noted, "his work has long been dismissed by most scientists as quackery." Another New York Times writer noted that there was a racial bias built into Sheldon's work, as Sheldon believed that "Negro and Hispanic brains stop developing early."
Most of the colleges destroyed most of the photos soon after the study ended. Unfortunately, many of the photos survived into the 1990s, when the Times story hit. The photos had made their way to the Smithsonian which, in response to the Times article, sealed the archive from public viewing (but made it available to researchers). A week or so later, the Smithsonian shredded photos from Yale students, on request from that university, and noted that it would do the same for other schools which so requested. To date, it is unclear if any of them have done so.
Bonus fact: In 1968, Paramount Pictures released an adaptation of Romeo and Juliet starring Leonard Whiting as Romeo and Olivia Hussey as Juliet. Hussey, then age 15, appeared nude in the film; she was the only actor or actress to do so. Because of the nude scene, children under the age of 18 were not allowed to attend the premiere of the movie in London. According to her IMDb biography, this ban included Hussey, who would have only been exposed to her own image.
From the Archives: Japan's Naked Festival: Exactly what it sounds like.
Related: The above-mentioned rendition of Romeo and Juliet. 313 reviews, 4.7 stars.