The United States Patent and Trademark Office, or USPTO, has issued plenty of ridiculed patents over the years, perhaps most famously the "method of exercising a cat" by teasing it with a laser pointer. And, for perhaps just as long, man has been trying to defeat a scourge of humanity — baldness. Which means, inevitably, the two will come together in the form of a patent to solve bald heads:
In this case, a patent for the double comb-over.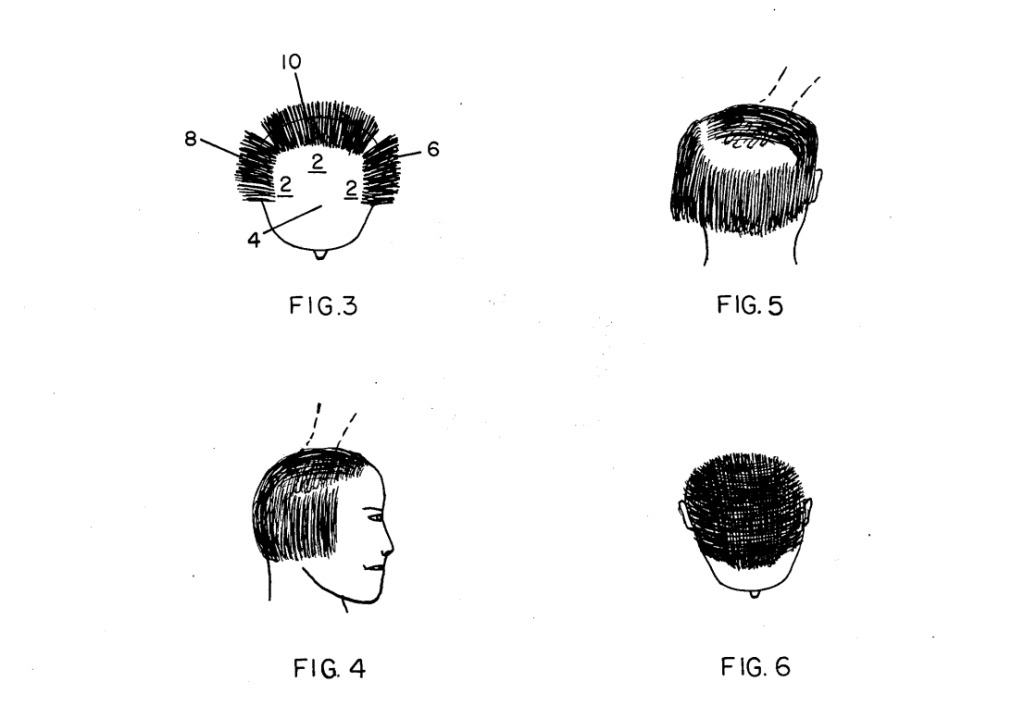 The abstract of the patent, available here, defines the patented idea as "a method for styling hair to cover bald areas using only the individual's own hair, comprising separating the hair on the head into several substantially equal sections, taking the hair on one section and placing it over the bald area, then taking the hair on another section and placing it over the first section, and finally taking the hair on the remaining sections and placing it over the other sections whereby the bald area will be completely covered." Basically, hair from both the right side and the left side combine to form a nest of hair as sketched in figure six, above.
The father and son team which was awarded the patent in 1977 makes some suggestions. The side hair should be three to four inches long — "extra long," the "inventors" say, but that could just be a joke at the expense of the extra short hair elsewhere on the head in question. (Regardless, they continue, "the length of hair will depend on the size of the bald area.") The duo also notes that "[t]he uppermost section can be styled to the person's personal tastes" and suggests that once this is done, that section be "coated with hair spray."
And yes, the patent is intended to be a joke. In 2004, they won an award (called an Ignobel Prize, discussed previously here) for "dubious acheivements in science," and the son admitted that the entire endeavor was a farce.
Bonus fact: The children's television show Blue's Clues ran for ten seasons, from 1996 until 2006. The first host of the show, Steven Burns ("Steve" on the show) left after six seasons and roughly 100 episodes. Later, he'd explain why: " knew I wasn't gonna be doing children's television all my life, mostly because I refused to lose my hair on a kid's TV show, and it was happenin' — fast."
From the Archives: Patent Leather Shoes: Michael Jackson's awesome patent.
Related: A combover for the rest of us.