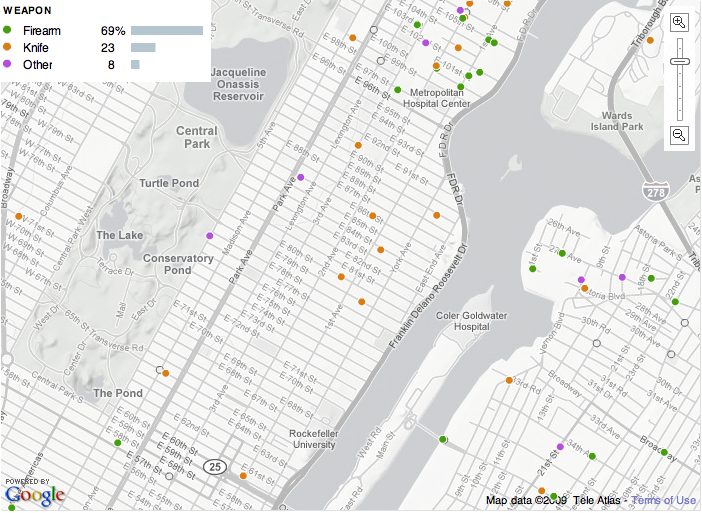 When one thinks of New York City and crime, the image typically imagined is one of danger, at least relative to the idyllic zones of America where the population density of trees outscales people five to one.  Memories of Bernie Goetzmay be fading, but it was only 25 years ago when he, believing he was under threat of mugging on a Manhattan subway, opened fire on his allegedly would-be assailants.
But one New York City neighborhood — Manhattan's Upper East Side — is virtually free of gun violence.  Officially, the neighborhood abutts Central Park on the west while its east border is formed by the East River.  North and south, though, the lines are 96th and 59th Streets respectively, which is to say, the borders are entirely fluid with the neighborhoods next to them.   (A guess as to why the lines are where they are?  On the south side, Central Park ends on 59th; on the north, the Metro North train tracks come above ground at 97th.)  And in the last seven years, it's been incredibly safe — or, at least, homicide-free.
This interactive map from the New York Times tells the story.  (A screenshot is above-right.)  From 2003 to 2009, there were 3,780 homicides in New York, total, with roughly 2,600 them involving a gun.  But only 11 homicides over the period, or about two per year, came in the Upper East Side.  For an area with a population of 200,000+, that gives roughly a 1 homicide per 100,000 per year.  To put that in perspective, in 2003, Maine had the "best" homicide rate in the nation, at 1.2 per 100,000.
Perhaps New York — or at least this neighborhood — is much safer than one would think.
Bonus fact:  Simo Häyhä probably would not have found the Upper East Side to his liking.  His native country, Finland, was neutral in World War II, but when the Soviets tried to annex part of Finland, the Fins refused, and the Soviets invaded.  The resulting war, known as the Winter War, lasted 15 months with the Soviets being decisive winners — but not before Häyhä, a sniper, racked up an record-setting kill total: 505 confirmed people killed, the most by anyone in a major war.
From the Archives: Pakistan's Village of Illegal Guns: It's basically the exact opposite of the Upper East Side..
Related: "Seeing Central Park: The Official Guide to the World's Greatest Urban Park" by Sara Cedar Miller. 4.5 stars on ten reviews.