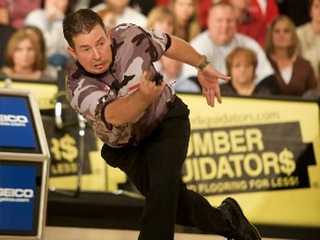 Had you spent the afternoon last Saturday channel surfing, you may have come across a bowling tournament — the PBA Tournament of Champions — and watched twelve-year PBA veteran bowler Mika Koivuniemi win the $250,000 first place prize. It was the largest prize in PBA Tour history, but winning large amounts of money from bowling is something Koivuniemi is no stranger to. The 43 year-old Finnish star has banked roughly $1.5 million over his career, winning tournaments in a dozen different countries.
Saturday's runner up received $100,000. That prize went to Tom Smallwood, above, who cannot boast the career of Koivuniemi. Smallwood has won but one tournament: a $50,000 win on December 13, 2009. But his triumphs that December and again his $100,000 cash out Saturday come from a history deeper than tenpins.
Smallwood was always a talented bowler, supplementing his income by participating in local, amateur bowling tournaments. But his meal ticket came from General Motors. While he dreamed of being a professional bowler, Smallwood settled on a more secure job with a pension, as an assembly line worker for GM.
In November of 2008, General Motors disclosed that absent government help, a merger, or sale, the company would run out of cash. The company received some assistance on December 2, 2008, in the form of a bridge loan from the federal government, but from Smallwood's perspective, this was too little, too late. Smallwood — who installed seat belts for GM automobiles — was laid off later that month; as he notes, right before Christmas. With the economy generally in poor shape — especially so in Michigan and in the auto industry — he turned toward other paths. He entered a PBA Tour qualifying tournament the following March, and finished high enough to qualify for the circuit.
By the end of 2010, Smallwood was a champion. He's earned over $100,000 (excluding Saturday's purse, which in effect doubles his career earnings) including the $50k from December of 2009. That win — his only Tour title to date — was over Wes Malott, the defending PBA Tour Player of the Year, and came a few days after another milestone: in early December, 2009, just a year after laying off Smallwood, GM offered him his job back.
He declined.
Bonus fact: Walter Ray Williams, Jr., holds the PBA record for career earnings, with over $4 million made — over a three decade career. In 2006, New York Yankees won the rights to Japanese pitcher Kei Igawa. They signed him to a five year contract. Igawa last made an appearance for the Yankees in 2008; he's been toiling in the minors since. The Yankees paid him $4 million last year, and likely will again this year as well.
From the Archives: Slow and Unsteady Wins the Sprint: When the last lane goes slow. Very, very slow.