Garfield, the cartoon, debuted in 1978 and has been in circulation since. The strip features a cat named Garfield, a guy named Jon Arbuckle, and Arbuckle's dog, Odie. Arbuckle is an awkward, perennial bachelor; Odie, a clumsy, good-natured, and not too intelligent drooler; and Garfield, of course, is the lazy, lasagne loving feline and a bit of a curmudgeon. For most of the cartoon's life, the three have lived together in comedic bliss. But in October of 1989, that blissful existence was threatened when Garfield woke up to find himself, cold and alone.
And then it got really creepy. As seen below, for the five days after, Garfield found himself, alone, in an abandoned house.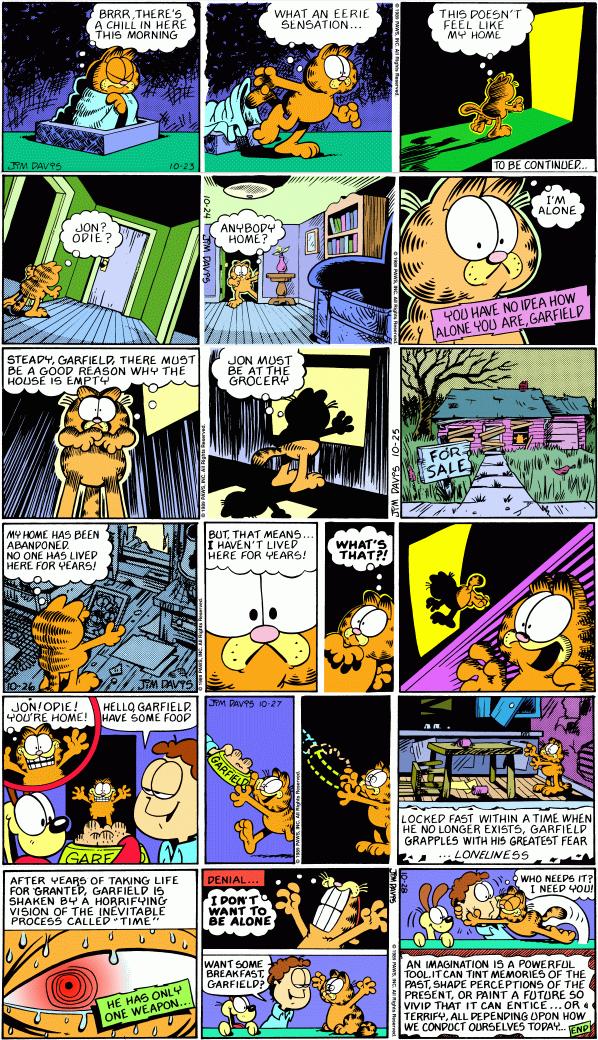 (Click here for a slightly larger version, or here to see the first three-panel strip on Garfield.com.)
The last segment in the above-pictured series has Garfield, alone, screaming out in denial — and then, suddenly, Jon and Odie re-appear. In the final frame, Jim Davis, the author of Garfield, writes:
An imagination is a powerful tool. It can tint memories of the past, shape perceptions of the present, or paint a future so vivid that it can entice . . . or terrify, all depending upon how we conduct ourselves today . . . 
All this would suggest pretty heavily that the Garfield universe isn't about a guy, a cat, and a dog, but about the delusions of a pet left alone to fend for himself in what, to him, is a post-Apocalyptic universe. Nightmarish stuff, not really something from the funny pages.
But Davis would later explain. The six-day mini-series ended on October 28, 1989 — just a few days before Halloween. Davis, for reasons untold, wanted to do something "legitimately scary, as opposed to Halloween-scary," per BoingBoing. As he further expanded on in the Garfield's Twentieth Anniversary Collection, he asked some people what scared them, and being alone (or dying alone) came up near the top of most everyone's list. He never intended the segment to be a canonical take on what's actually happening in Garfield's world — consider it a dream sequence, if you will. And it most definitely did not mean for it to be funny, which is good because it plainly isn't.
Bonus fact: Sometime before 2004, Garfield.com ran a free, web-based email service for its fans. For a while, that service was available at GMail.com, short for "Garfield Mail." Today, of course, that is the URL of Google's Gmail service.
From the Archives: Alone in the Ocean: A whale which is all by itself out there — because it's unable to communicate with the other whales.
Related: The most recent Garfield book? "Garfield Gets in a Pickle," featuring a cover of Garfield dressed like a pickle. It's the 54th (!!) book in the Garfield series.