The Harry Potter Fan Who Was Worthy of Gryffindor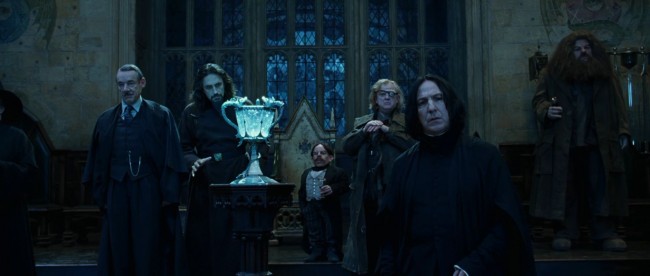 By the time
 Harry Potter and the Goblet of Fire
, the fourth book in the Harry Potter saga, was published in 2000, the series had already become a smashing success.  The first book,
Harry Potter and the Philosopher's Stone
("Sorceror's Stone" in the U.S.) debuted in the U.K. in the summer of 1997 and was being turned into a movie; pre-orders for the 
Goblet of Fire
 book 
set a new record for Amazon.com pre-orders
.  Its popularity rampant, Potter's trials and tribulations scored fans of all kinds.  Including Natalie McDonald of Toronto, a nine year old girl who could not wait to hear how the story would end — because she had a terminal case of leukemia, and was all but certain to die before 
Goblet
 hit the book stores.
A family friend, Annie Kidder, went to the publisher of the Potter series, asking them to pass a letter (and fax) on to J.K. Rowling, author of the books.  Kidders's request was a simple one: give this dying child a preview of the outcome of Goblet — yes, nearly a year before the rest of the world would be able to read it — as the Potter stories "had been [Natalie's] respite from the hell of leukemia" and Natalie was, quite simply, not going to survive long enough to otherwise enjoy the story.  Rowling was on vacation when the requests arrived and replied, via email to Natalie's mother, on August 4, 1999, detailing the fate, as would be told in Goblet, of the main characters, eleven months early.  Unfortunately, Natalie passed away the day prior.
Nevertheless, Natalie's mother Valerie and Rowling began a friendship from that day forward.  Rowling, for her part, honored Natalie's memory in print — on page 159 (or 180, depending on the version) of Goblet of Fire, a young witch by the name of Natalie McDonald, new to Hogwarts, donned the Sorting Hat and became a member of the House of Gryffindor.
Bonus fact: Perhaps Rowling was simply paying the favor forward?  She completed the manuscript forPhilosopher's Stone in 1995 but, two years and twelve rejection letters later, had failed to find a publisher.  In 1997, a small UK publishing house decided to take a chance on the then-unknown author when Alice Newton read the first chapter and demanded that the publishing company publish the manuscript so that she would be able to read the rest of the story.  Who was Alice Newton?  The eight year old daughter of the publishing company's chairman.
From the Archives: Miranda Piker and the Chocolate Factory: Another character — one you missed — from a noted piece of fiction.
Related: The complete Harry Potter book set, paperback, for $50. A bargain at three times the price.