This Isn't His Fight Song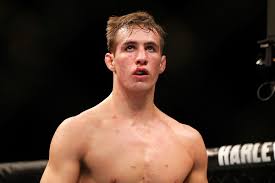 When professional athletes enter their games and matches, oftentimes, they do so behind the backdrop of blaring music. Take, for example, baseball player Mariano Rivera, the first person ever elected to the sport's Hall of Fame unanimously. Nicknamed "the Sandman," Rivera entered the games in the last inning, aiming to record the final three outs of the game, ensuring a victory for his team. And when his team, the Yankees, played at home, fans immediately knew when Rivera was about to enter the game: the public address system would blast the Metallica song "Enter Sandman" to announce the event.
Entrance music can be important — it really sets the tone — and many athletes are particular about theirs. For sports where the event takes place at a neutral site, that takes coordination. And sometimes, that goes wrong. Just ask mixed martial arts (MMA) combatant Rory MacDonald.
MacDonald has been a professional MMA fighter since 2005 and, to date, has a career record of 21 wins (seven by knockout), six losses, and one draw. From 2010 through most of 2016, he competed in the Ultimate Fighting Championship league where he was perennially a top contender, so it would have made sense for him to pick a single song as his trademark entrance music. But for his first four fights, he entered to a wide variety of songs, including M.C. Hammer's "U Can't Touch This" and "300 Violin Orchestra" by Jorge Quintero.
It seemed random — and not just to the crowd. MacDonald thought it was pretty random, too. He wasn't picking the songs, and he didn't know who was.
On April 21, 2012, the mystery came to an end. A UFC producer named Jason (his last name was never disclosed) came up to MacDonald with some bad news — the song MacDonald requested that evening wasn't available under whatever licensing rubric the venue subscribed to. MacDonald, according to MMA blog Bloody Elbow, didn't ask for that song (which he vaguely recalled as being a Nickelback song). Jason insisted that MacDonald had texted him with the request, and a confused MacDonald asked Jason to show him the text message conversation. There it was, on Jason's phone — but the conversation wasn't with MacDonald. Per MacDonald, "[Jason] showed me and I said, 'Dude, that's my old number. Who are you talking to?'"
A few years earlier, MacDonald left his small town in Quebec, moving to Montreal. In doing so, he changed phone numbers, abandoning the old one process. The aforementioned Jason called the old number and the new owner of the number admitted that he wasn't Rory MacDonald, but he was a big fan of the MMA fighter. And yes, he was pretending to be MacDonald and picking his entrance music.
From that point on, Jason texted the right number.
Bonus fact: The song circuses play to accompany clowns — listen here if you can't get it in your head otherwise — wasn't originally intended for them. The song was composed by Czech conductor Julius Fučík in 1897 and meant to announce the entrance of gladiators into the arena. The best evidence of this? The song's title is "Entrance of the Gladiators."
From the Archives: 1-916-CALL-TURK: A fake phone number that turned out to be real.