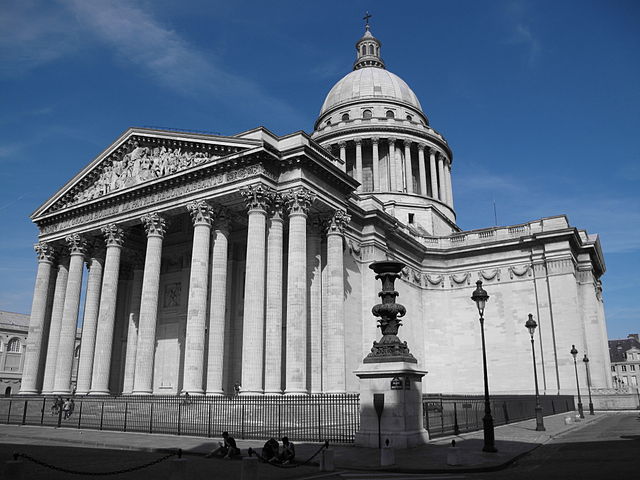 The Pantheon, pictured above, is a mausoleum in Paris. Built starting in 1758 and completed in 1790, it is the final resting place of Voltaire, Louis Braille, Victor Hugo, Alexandre Dumas, Marie Curie, and others. The building, modeled after the building of the same name in Rome, contains large columns, a dome, and — of unique relevance to the discussion below — a clock. The clock, a relic from the 1800s, stopped chiming in the 1960s when rust overtook its gears, bringing it to a halt.
All that changed in 2006. That year, after an eight-month restoration project, the clock was fixed. But it was not due to some public works project nor funded by some sort of fabulously wealthy patron of the arts — at least not outwardly. It was done, surreptitiously, by a group of underground art restorers, cultural preservation advocates, and, perhaps, criminals. The group, which is still around, is called Urban eXperiment, or UX for short.
The history behind the UX is murky, but according to Wired, their beginnings stem from a theft from three decades ago. In September of 1981, a middle schooler claimed that he and a friend were able to sneak into the Pantheon and, when other children called their bluff, they felt compelled to prove their bold assertion true — even though it mostly certainly was not. The braggarts entered the Pantheon like any other visitor would, but, when it closed, decided to hide instead of leave. The made it through the night without detection — again, per Wired, "they encountered no guards or alarms."
Fast forward to 2005. Using the same "hide until after closing" their forebears used decades earlier, a group of restorers — a subset of UX called Untergunther — created a secret workshop in the Pantheon, in a room just below the dome, and set forth to fix the clock. For eight months and at the expense of $10,000 in member-donated monies (their time, of course, was uncompensated), the group secretly toiled to fix the long-broken clock. They avoided guards without much effort; the floor they set up shop in was rarely frequented, even by security. They were even able to grow a small vegetable garden on the terrace outside their makeshift workshop.
When they completed the restoration, a new challenge arose. The clock was in working order but needed the Pantheon's staff to maintain it — which, unfortunately, would require telling the staff that the clock had been fixed. This proved incredibly difficult, and came at a price, as recounted by Wired:
They notified the director, Bernard Jeannot, by phone, then offered to elaborate in person. Four of them came—two men and two women, including Kunstmann and the restoration group's leader, a woman in her forties who works as a photographer—and were startled when Jeannot refused to believe their story. They were even more shocked when, after they showed him their workshop ("I think I need to sit down," he murmured), the administration later decided to sue UX, at one point seeking up to a year of jail time and 48,300 euros in damages. Jeannot's then-deputy, Pascal Monnet, is now the Pantheon's director, and he has gone so far as to hire a clockmaker to restore the clock to its previous condition by resabotaging it. But the clockmaker refused to do more than disengage a part—the escape wheel, the very part that had been sabotaged the first time. UX slipped in shortly thereafter to take the wheel into its own possession, for safekeeping, in the hope that someday a more enlightened administration will welcome its return.
In the end, some UX members were brought up on criminal charges but, as noted by the Guardian, were acquitted. As for the clock? It is, again, stopped. In the Pantheon, the time is, eternally, 10:51.
Bonus fact: Marie Curie, whose groundbreaking work on radioactivity changed the history of science, is interred in the Pantheon, as noted above. She died in 1934 from aplastic anemia due to her regular exposure to radioactive isotopes. During her research career, she stored the isotopes in a desk drawer along with her papers. To this day, her papers are tainted with radioactivity and are too dangerous to read as one normally would. According to her Wikipedia entry, her documents "are kept in lead-lined boxes, and those who wish to consult them must wear protective clothing."
From the Archives: (1) Stolen Smile: The story of the theft of the Mona Lisa. (2) Allergic to Paris: Yes, one can be allergic to Paris.
Related: "From the Mixed-up Files of Mrs. Basil E. Frankweiler" by E.L. Konigsburg. If you do not know why this book is listed here, your ten year-old self commands that you purchase this Newberry Medal winning children's classic from 1967.